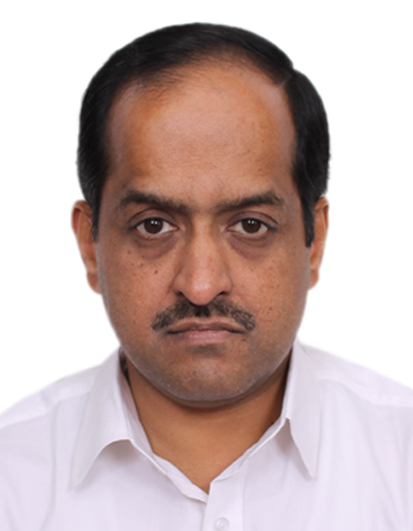 Mr VENKATESH NAYAK is associated with CHRI in various capacities since April 2000. Before appointment as Director, CHRI India office, he was Programme Head of our Access to Information Programme since 2005 and was officiating as Director-in-Charge since December 2021.
Mr. Nayak completed his Masters and M.Phil degree in History from the Jawaharlal Nehru University (JNU). He was also a doctoral research fellow at JNU.
He has authored public education documents on the basic structure of the Indian Constitution, issues of social justice, electoral reforms, efficacy of public audit mechanisms, citizens' right to information and fact finding mission reports on human rights violations. Mr. Nayak was closely associated with the public education process and the lobbying of Members of Parliament for the Right to Information Act, 2005. He is a Co-Convenor of the National Campaign for People's Right to Information since 2011.
Mr. Nayak has designed and conducted training programmes for implementing the RTI Act 2005 for senior and middle level officers of government serving in Uttarakhand, Madhya Pradesh, Gujarat, Meghalaya, Nagaland, Tripura, Mizoram, Delhi, Tamil Nadu, Jharkhand, Bihar, Uttar Pradesh, Punjab and West Bengal. He has been a workshop designer and resource person at training workshops organised by the Institute of Secretariat Training and Management, Delhi for Public Information Officers (PIOs) and RTI Trainers designated by the Government of India. He has been invited by the National Institute of Administration and Research of the Lal Bahadur Shastri National Academy of Administration, Mussoorie, National Academy of Customs, Excise and Narcotics, the National Academy for Training and Research in Social Security, the Institute of Government Accounts and Finances, the National Academy of Direct Taxes, the Postal Staff College and the Meghalaya Administrative Training Institute as a resource person for training PIOs and senior government officers. Till date he has sensitised and trained more than 7,750 government officers in various jurisdictions.
Mr. Nayak was a member of the Sub-Committee appointed by the Policy Advisory group of SCOPE (Standing Conference of Public Enterprises) to advise Public Sector Undertakings (PSUs) for implementing the RTI Act. He has been a resource person at in-house training workshops organized by PSUs such as the Food Corporation of India, the National Buildings Construction Corporation of India, the Power Grid Corporation of India, the Oriental Insurance Company Ltd., and other agencies like the Punjab State Electricity Board, the West Bengal State Electricity Board, the Employees State Insurance Corporation Ltd., Housing and Urban Development Corporation (HUDCO), Steel Authority of India (SAIL), Airports Authority of India and the National Capital Region Planning Board. Till date he has trained more than 800 executives and managers of various Central and State level Public Sector Enterprises for implementing the RTI Act.
He has also developed templates for proactive disclosure of information at the level of police stations. In 2011 he convened a sub-group of the Task Force set up by the Department of Personnel and Training (DoPT), Government of India, to develop guidelines for improving proactive disclosure of information by public authorities under the RTI Act. DoPT has issued these guidelines in April and November 2013. He was a member of the committee established by the DoPT to monitor the implementation of these guidelines across public authorities. Mr. Nayak was also a member of the Task Force set up by India's National Informatics Centre (NIC) in 2012 to monitor and advise the implementation of the National Data Sharing and Accessibility Policy.
The World Bank has commissioned him to undertake scoping studies and provide technical advice for implementing information access laws at various levels of government in Bangladesh and Nepal. The Constitution Commission of Fiji commissioned him in 2012 to develop a background paper on information access legislation based on comparative law. In 2016 he was commissioned by the UNDP Sri Lanka to provide technical assistance and advice based on comparative best practices for the effective implementation of the RTI Act. He also presented a paper on the status of implementation of the RTI Act in India at the 10th World Conference of the International Ombudsman Institute at Wellington, New Zealand in November 2012.
Till date he has provided technical support to governments and CSOs engaged in drafting or reforming RTI laws in Afghanistan. Bangladesh, Canada, Fiji, Ghana, Kenya, Malaysia, Malta, the Maldives, Sri Lanka, Tanzania and Zambia. He has designed and conducted capacity building workshops on RTI for Members of Parliament, Information Commissioners, senior government officers, civil society and media representatives in Egypt, Ghana, Kenya, Liberia, Nigeria, Tanzania, Uganda and Zambia in Africa; Afghanistan, Bangladesh, Bhutan, Jordan, the Maldives, Nepal, Sri Lanka and Vietnam in Asia; Dominica in the Caribbean and Fiji in the Pacific.
Mr. Nayak is a member of the International Advisory Board of the Human Rights Programme of the University of Arizona.