CHRI's "Virtual Police Station" makes waves in Kolkata
February 24, 2017 To demystify the criminal justice system for students, the Commonwealth Human Rights Initiative (CHRI) showcased its groundbreaking multimedia tool--"Virtual Police Station" (VPS) at the inauguration of Amity Law School's legal aid clinic in Kolkata today.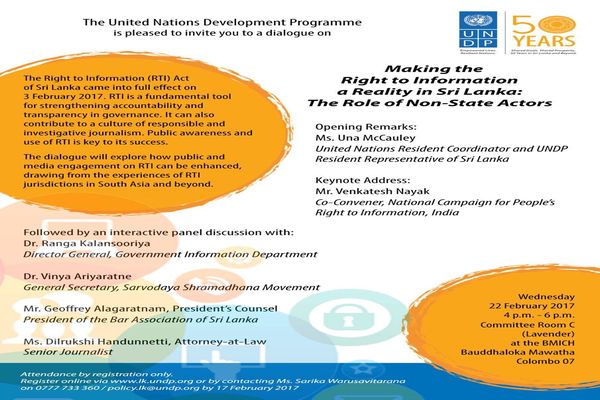 Making the Right to Information a reality in Sri Lanka: The Role of Non-State Actors
The United Nations Development Programme (UNDP) Sri Lanka is hosting a dialogue on the country's recently implemented Right To Information Act (RTI) on February 22 from 4.00 pm to 6.00 pm at the Bandaranaike Memorial International Conference Hall, Colombo.
Malawi becomes 23rd country to enact an RTI law in the Commonwealth
President Peter Mutharika has given his assent to the Access to Information Bill that Malawi's Parliament approved in December 2016. Malawi becomes the 23rd country in the Commonwealth to enact a national level law guaranteeing access to information to its people.
Human rights lawyers concern about civil liberties in India
The threat to civil liberties in India is very serious but there is also a lot of resistance against this threat in the country, according to one of India's leading human rights lawyers. "In India, the threat to civil liberties is very, very serious.
Sri Lanka Jumps to Third Place Globally on the RTI Rating
Sri Lanka has overtaken all Commonwealth countries in RTI ratings according to Tobey Mendel's Centre for Law and Democracy. CHRI provided technical assistance to stakeholders in Sri Lanka for formulating the Regulations and Rules.