UP journalist arrests show disregard for rule of law by state: SAMDEN
---
Download File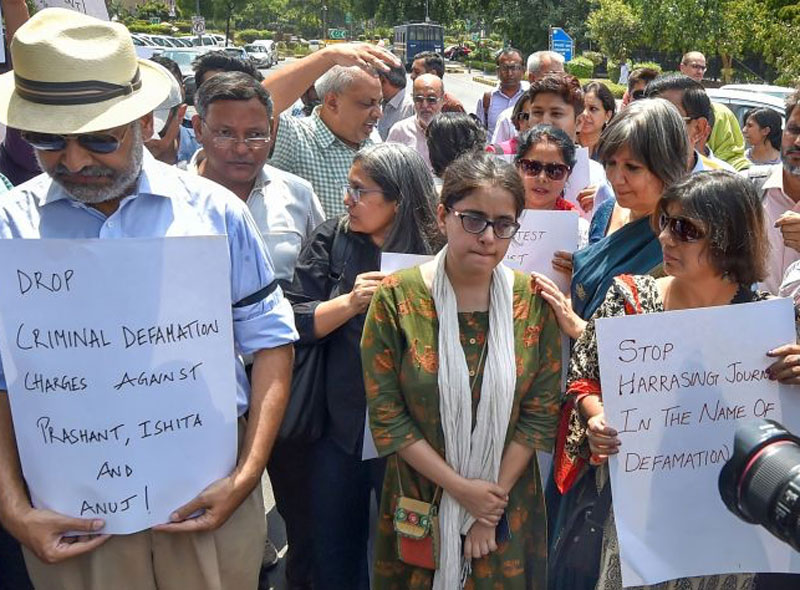 [Jagisha Arora, in green dress, the wife of journalist Prashant Kanojia who was arrested by UP Police, and other journalists stage a protest against Kanojia's arrest, at the Press Club in New Delhi on 10 June. Photo: Manvender Vashist/PTI]
New Delhi, 10 June: The South Asia Media Defenders Network (SAMDEN) today joined calls by the Editor's Guild of India, The Network of Women in Media, India, and journalists across the country demanding the release of three media professionals held in Uttar Pradesh for allegedly "maligning" the image of Chief Minister Yogi Adityanath by sharing and broadcasting a video.
Prashant Kanojia, a freelance journalist, and Ishita Singh and Anuj Shukla, the editor and the head of 'Nation Live' TV news channel, were arrested for broadcasting a video that showed a woman speaking to reporters outside CM Adityanath's office, claiming that she had sent him a marriage proposal.
One of the two charges under which Mr. Kanojia was arrested– that of criminal defamation -- cannot be used to make arrests without a magistrate's order, SAMDEN pointed out. The other ("fraudulently/dishonestly damaging a computer system", under Section 66 of the IT Act) does not fit the alleged "crime" since sharing a video online cannot possibly damage a computer.
As others have noted, the Chief Minister should have been brought the issue to a magistrate's attention should he have wished to press charges of criminal defamation. That the state police moved suo motu to arrest him appears to be a (mis)use of power in a move designed to penalise journalists.
"These arrests indicate an alarming and arbitrary disregard for due legal process and we hope that the Uttar Pradesh government will heed the call by journalists and media organisations to release the three journalists and drop charges against them," said Sanjoy Hazarika, SAMDEN Co-convener and CHRI International Director.
CHRI has also drawn the attention of the National Human Rights Commission (NHRC) to the issue.
Signed:
Kalpana Sharma, Independent journalist and author
Patricia Mukhim, Editor, Shillong Times
Rita Payne, Journalist and Media Adviser, President Emeritus, Commonwealth Journalists Association
Sangeeta Barooah Pisharoty, Deputy Editor, The Wire
Suhasini Haider, National Editor and Diplomatic Affairs Editor, The Hindu
Sujay Gupta, Independent Media Consultant
Kumar Lopez, CEO, Sri Lanka Press Institute
Apar Gupta, Executive Director of the Internet Freedom Foundation
Shailesh Gandhi, Former Central Information Commissioner and RTI activist
Paranjoy Guha Thakurta, independent journalist, author and film-maker
Kishore Bhargava, Technology Mentor, LinkAxis Technologies
Sanjoy Hazarika, SAMDEN co-convener and CHRI International Director
***
Anchored in the Commonwealth Human Rights Initiative (CHRI), SAMDEN is a network of media professionals advocating for press freedom and security in the region. For more information, please contact richa@humanrightsinitiative.org.
You can read the letter to the NHRC here.