SAMDEN welcomes release of Reuters journalists in Myanmar, urges greater media freedom
---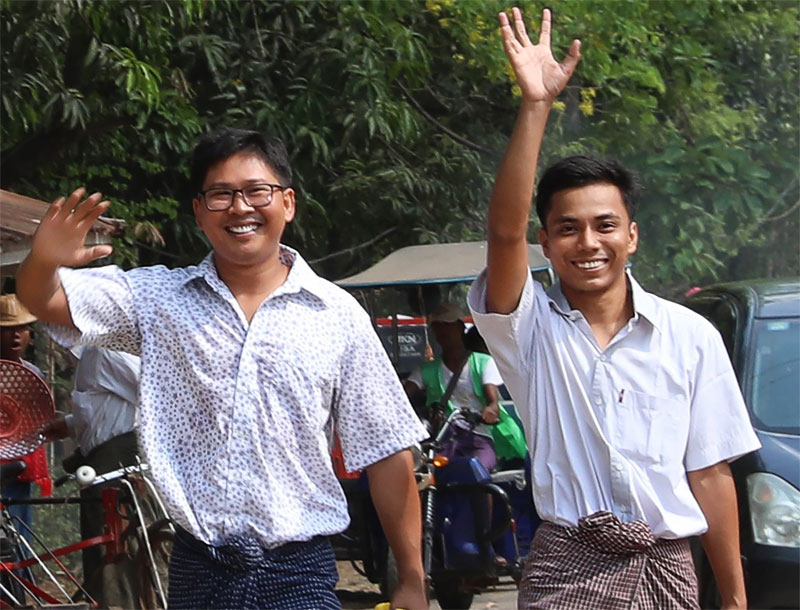 New Delhi, May 7 -- While the release of two Reuters journalists in Myanmar after 17 months of imprisonment is a welcome step, authorities there must also respond to calls for greater media freedom, the South Asia Media Defenders Network (SAMDEN) said today.
The freeing of Wa Lone and Kyaw Soe Oo, who won the Pulitzer Prize for International Reporting along with other colleagues of the news agency for their reporting on the Rohingya refugee crisis, also reflected the importance of the international campaign and mobilisation by media on the rights of journalists, SAMDEN said.
The two men were charged with breaking the country's Official Secrets Act while working on an investigative report on the violence against Rohingya Muslims and pardoned earlier today as part of a general amnesty that freed thousands of prisoners. They had been in jail for over 500 days.
"We are extremely glad to hear of the release and hope that this acts as a spur for greater press freedom in Myanmar," said Sanjoy Hazarika, SAMDEN co-convener and International Director of the Commonwealth Human Rights Initiative (CHRI).
SAMDEN, anchored in CHRI, is a network of senior media practitioners from across South Asia which advocates, researches, organises and disseminates on issues of media freedom. They include Kanak Dixit, founding editor of Himal Southasian in Kathmandu, Mahfuz Anam, editor and publisher of The Daily Star in Bangladesh, Salil Tripathi, author and Chair of the Writers in Prison Committee of PEN International, London, and Lucy Freeman, Chief Executive Officer of the Media Legal Defence Initiative in London.
The detention of the journalists is widely seen as having extensively damaged the image of Aung Sang Suu Kyi, the de factor head of government, a Nobel Peace Prize winner. Suu Kyi had drawn widespread condemnation for her inaction over the Rohingya exodus from her country following a brutal military crackdown.
***
For further information, contact:
Richa
Media and communications officer, CHRI
richa@humanrightsinitiative.org
Press coverage: Scoop World | Northeast Now