Police depts need to proactively change processes to ensure gender equity, CHRI's latest report shows
---
Download File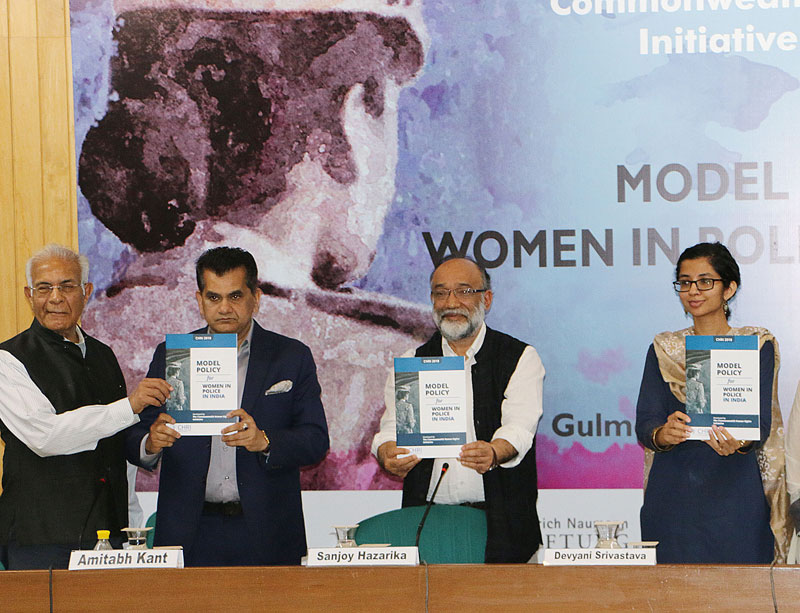 New Delhi, March 28: Calling for a significant surge in women recruitment in the police as a lever to push for police reforms, change public perceptions and improve good governance, NITI Aayog CEO Amitabh Kant declared today that this would "radically" transform policing into "a public service."
Mr. Kant, who is among the leaders of developmental planning in the country at the NITI Aayog, the successor to the central Planning Commission, was launching a Model Policy on Women in Police by the Commonwealth Human Rights Initiative (CHRI) which lays down a framework to guide government efforts at improving gender diversity, providing agency and power for women in police services across India.
A packed audience listened to his endorsement of the report, where he said it was crucial to rank states to "name and shame them" and enable them to adopt progressive policies, illustrating it from his own experience of industrial policy and development.
"Such reports will bring about a new phase of policing in India.. (and) we at the NITI Aayog will be happy to work with CHRI to make this a part of our index [of ranking of states by policing quality]."
The report (which can be accessed here) was developed in consultation with serving and retired police officers, academics, and independent experts, and makes a case for a clear, time-bound and comprehensive action plan for equal opportunities for women in police where they comprise just over 7% of the total police force. Most state governments are far from targets for recruitments which they have set themselves for policing is a state subject.
Referring to this, Mr. Kant remarked, "Less than 1% of policewomen in India occupy senior ranks. Over 90% of them remain constables — the lowest possible rank — which is the position they enter the force and eventually retire from. I have rarely seen police stations headed by women."
"But wherever women police officers have entered the force, they have made a very positive contribution to policing. If more women entered the force, policing in India would be radically transformed from being just a policing activity to becoming a public service," he added. But he noted that just increasing numbers would not help achieve mainstreaming.
"Not enough can be said or done about the need for police reforms in India," said Mr Hazarika. "But no matter how onerous this task is, efforts must continue to embed changes, at the institutional, cultural and in training process but especially in the hearts and minds of all ranks so they can perform without fear or favour," he added.
The discussions following the launch focused on practical issues that bar the entry and work of women in the police. As a result, the representation of women in police across India is barely over 7%, despite an official mandate of ensuring 33% reservation for women.
Over the course of three sessions, the participants, which included IPS officers, attempted to delineate the specific problems that plague police departments across India.
Ms. Renuka Mishra, ADGP, UP Police Recruitment and Promotion Board discussed at length the practical infrastructural problems — including the lack of toilets and hygiene facilities, issues with body armour and weaponry, and even secure accommodation — that affect the performance of women in police. Ms. Anuradha Shankar, ADG Training, Madhya Pradesh Police Training Academy, discussed the efforts that they had to take for decades to be able to "scrape up [women representation] to 12% in the MP police", which, she noted was dismal but was still an improvement [over the national average of 7%].
CHRI also presented the findings of its Audit of the Delhi Police's All Women PCR Units, which showed in 2017 that segregating women in policing "silos" was not effective. The report noted that AWPCR vans were ineffective, both responding to public complaints and as a strategy for mainstreaming women in police. It found that these units handled far less number of calls than other PCRs in the same zone, did not receive positive public feedback, lacked confidence, and generally kept a low profile with very few proactive interventions. The Model Policy, therefore, recommended that the goal must be to introduce and retain police women across all positions at par with men.
Present for the launch were Mr. Wajahat Habibullah, former Chief Information Commissioner and chair of CHRI's India Executive Committee and a range of senior police officers from several states including Delhi, Madhya Pradesh, Uttar Pradesh, Assam, Maharashtra, and Telangana, as well as Karnataka and Odisha, among others.
***
For more information, please contact Aditi Dutta, CHRI, at 9643624749 or Devika Prasad at 9810727469.
More media queries, please write to richa@humanrightsinitiative.org.
Press coverage: Indian Express | UNI | India Today | IndiaBuzz