Nusrat killing: A spotlight on sexual violence in Bangladesh
---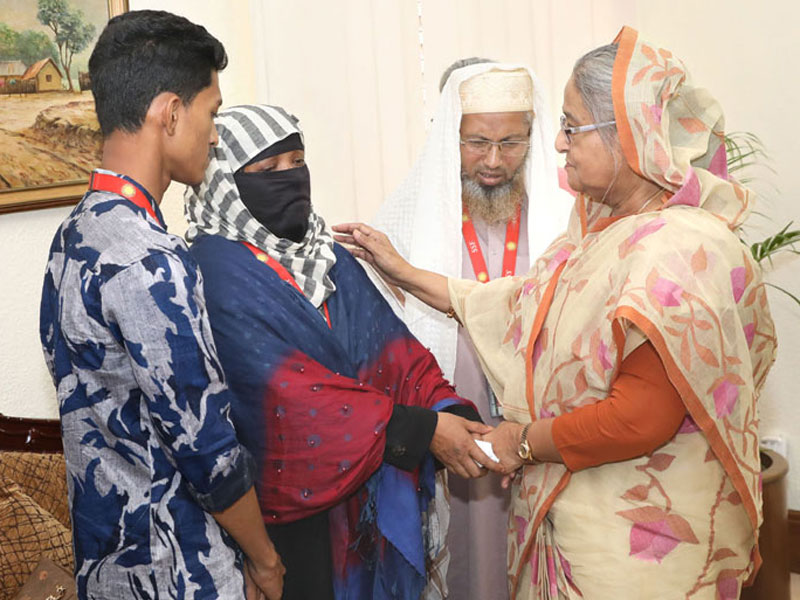 [Bangladesh Prime Minster Sheikh Hasina with Nusrat Jahan Rafi's family on April 15, 2019. Photo: Focus Bangla]
New Delhi, April 18 – After a 19-year-old Bangladeshi schoolgirl's killing after she accused her headmaster of sexual harassment sparked a wave of protests across the country, a leading international civil society group declared today that the "atrocity could have been averted if the police and the school governing body had taken steps on time."

The Commonwealth Human Rights Initiative (CHRI) said in a statement that the murder of Nusrat Jahan Razi, who was set ablaze when she refused to take back her complaint of sexual harassment against the principal of Songanazi Islamia Senior Fazil Madrasa in Feni district, reflected the "significant problem of sexual abuse and harassment in the country and other parts of South Asia".

CHRI noted that Odhikar, a leading human rights organisation from Bangladesh, in its human rights monitoring report released yesterday, said that 174 women had been raped in the country between January and March 2019, including 122 children. Recently, Dhaka, the capital, saw a campaign on sexual harassment on public transport with women wearing t-shirts and brooches which told men to keep their distance.

A two-member committee set up by the Bangladesh National Human Rights Commission said that the murder was the result of "a series" of acts of negligence and charged the district administration and school authorities of failing to act "responsibly."

CHRI echoes the views of Shaheen Anam, head of Bangladesh's leading NGO Manusher Junno (For Humanity), "that all education institutions must have a sexual harassment committee to address issues of sexual harassment and abuse". Ms. Anam added, "It is very important that the madrasa education board be brought under the same set of rules and be held accountable. We would like to see the perpetrators punished, the case reach its conclusion and show that this is totally unacceptable".

A statement issued by Sanjoy Hazarika, CHRI's International Director, on behalf of the organization's International Advisory Commission (IAC), said that "such a monitoring mechanism was critical to combat sexual abuse and violence in addition to paying full compensation to the family of the victim".

The IAC comprises of distinguished civil society leaders from across the Commonwealth and is chaired by Prof. Alison Duxbury of the University of Melbourne. Its members are Sam Okudzeto, lawyer and an advisor to the President of Ghana, Edward Mortimer, a former aide to the late UN Secretary General Kofi Annan, Wajahat Habibullah, India's first Chief Information Commissioner, Joanna Ewart-James, Executive Director of Freedom United, and Vivek Maru of Namati, a community-based legal empowerment network.
***
For more information, please contact
Sanjoy Hazarika, International Director, CHRI
Email: sanjoy@humanrightsinitiative.org, sanjoyha@gmail.com