Kolkata Workshop looks at challenges behind bars, need for dialogue, best practices
---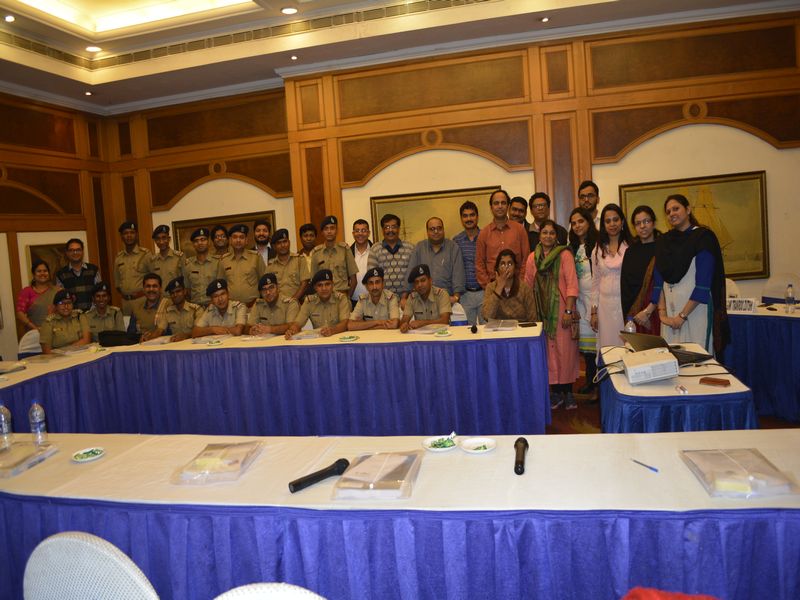 Dec 18, 2017
Kolkata, India
The Commonwealth Human Rights Initiative today organised a one-day workshop for prison officers on 'Welfare Behind Bars: Recent Development's, seeking to enhance the knowledge of prison officers with regard to the recent developments in prison reforms. The workshop focussed on good practices, facilitated sharing of experiences and brought the challenges before serving officers to the attention of relevant authorities.
The workshop was attended by 27 prison officers comprising welfare officers, controllers and assistant controllers from various correctional homes of West Bengal and sought to encourage prison officers to share the barriers experienced on the ground while working in a range of issues: these included ensuring access to legal aid services, the working of the Undertrial Review Committee's (UTRCs) and dealing with vulnerable categories of prisoners such as women, the mentally challenged, persons aged 18-21 years, foreign nationals and asylum seekers in Correctional Homes.
In his inaugural address, Mr. Biplab K. Dasgupta, AIG Correctional Services, emphasised various steps taken by the correctional services department for the welfare of prisoners, underscoring that 'Skill development is basic key of correctional management system'. He described a bunch of new initiatives inside prison precincts like mustard oil production, puffed rice manufacturing mills, and bakery as quite successful. The department aims to provide greater future focus on skill development.
Launching the workshop earlier, Madhurima Dhanuka, Coordinator, Prison Reforms Programme of CHRI, urged participants to discuss the challenges they faced on a daily basis, how they coped with them and review "best practices".
At a session on legal aid services in prison, Ms. Amrita Paul, Programme Officer of CHRI, highlighted the findings of the organisation's recent studies on legal aid and undertrial review committees in correctional homes in West Bengal.
Arijit Mukhopadhyay, Secretary, District Legal Services Authority, South 24 Parganas emphasised the importance of coordination between stakeholders in ensuring the law is implemented in its true spirit. "In order to have better prison management and implementation of standard operating procedures we must interact with all stakeholders," he said.
Prison officers spoke of issues concerning legal aid delivery in the districts. These included lack of effective legal aid services in Sealdah court and non-communication of details of lawyers in intimation of their appointment to prison authorities. The non-consideration of prisoners' cases in subsidiary correctional homes by the undertrial review committees and lack of physical production of prisoners were other concerns.
At a session on vulnerable categories of prisoners, including juveniles, Dr. Bipasha Roy, renowned child rights activist, underlined the recent evolution in the Indian Penal Code and Juvenile Justice Act.
A former member of the state Juvenile Justice Board, Dr. Roy emphasized the new nomenclature under the JJ Act wherein the term 'juvenile' has been replaced by 'Children in conflict with Law' or CCLs. She commented on the rising number of cases where trafficked women and children were being prosecuted as perpetrators despite an advisory issued by the Ministry of Home Affairs saying that they should be placed in shelter homes.
The problems of persons with disabilities, especially mentally disabled prisoners, were also discussed in the session on vulnerable categories of prisoners. Ms. Shampa Sengupta, who is an activist working on disability and gender rights in Kolkata, as well as the Joint Secretary of the National Platform for the Rights of the Disabled, stated that 'reforming prisons is also to make them disabled-friendly'.
Participants highlighted the lack of mental healthcare in prisons, with only 3 clinical psychologists available in the 59 correctional homes in West Bengal. Ideas of involving universities and students of psychology to balance the shortfall of mental health professionals were discussed as possible solutions.
The other important category of vulnerable prisoners were found to be foreign national prisoners. Ms. Dhanuka, took the session.
West Bengal has the highest number of foreign nationals in India, the majority being Bangladeshi nationals. CHRI circulated its latest publication – Frequently Asked Questions by Foreign Nationals in Indian Prisons. The publication answers basic questions on who should know about their detention, how to contact their families, the repatriation process and details of embassies in India.
The final session looked at ensuring legal representation at appellate stage i.e. High Court Legal Services Committee (HCLSC). Ms. Paul of CHRI and Mr Deepan Kumar Sarkar, Advocate, Calcutta High Court informed participants about the recent directions by the Calcutta High Court streamlining the process of availing services from the HCLSC.
Press: Telegraph
For further information, contact:
Madhurima Dhanuka
Coordinator, Prison Reforms Programme,
Commonwealth Human Rights Initiative
9331127001, 9748927001