International experts meet to discuss UN Human Rights Treaty Bodies
---
October 13, 2017
New Delhi, India
About 20 international experts from across Asia met here today to discuss the challenges UN Human Rights mechanism especially Treaty Bodies face.
The two-day event, 'Asian Regional Consultation of the Academic Platform Project on the 2020 Review', has been jointly organized by South Asian University (SAU), Commonwealth Human Rights Initiative (CHRI), and Geneva Academy of International Humanitarian Law and Human Rights at the South Asian University campus.
The consultation brought in specialists from Malaysia, Sri Lanka, Japan, Bangladesh, Iran, Norway, and Switzerland, who looked at the problems in holding governments to account to the ten key treaty bodies that have been included as part of the mandate given by the UN General Assembly.
The event in Delhi is the last in the series of eight regional consultations that have been held globally since 2016.
Regional consultations provide ideas and recommendations to put forward in the intergovernmental debate. Consultations have taken place in 2016 in Dublin, Ireland; Moscow, Russia; San Jose, Costa Rica and New York, USA; Nairobi, Kenya in 2017.
The consultation contributes to the process leading up to the General Assembly's 2020 review, and specifically to help inform the 2018 report of the Secretary General to the General Assembly.
Treaty Bodies are international UN Committees of independent experts who monitor State parties' implementation of international human rights instruments.
Treaty Bodies are a central pillar of the international human rights protection system; they prevent human rights violations by warning States about areas of concern and by advising them on durable solutions that address root causes.
The consultation aims to engage experts from around the globe in generating innovative ideas on how to improve the functioning and deepen the impact of the UN Human Rights Treaty Bodies.
The objective is to gather theoretically and practically grounded assessments of ongoing efforts to strengthen relationships, communication, and coordination among the human rights treaty bodies, and to identify additional opportunities for building relationships and leveraging synergies between the Treaty Bodies, other UN mechanisms, and regional human rights systems.
The consultation also witnessed the participation of academia, civil society, and independent experts including Dr. Ravindra Pratap, Dean, Faculty of Legal Studies, South Asian University, Prof. Savitri Goonesekere, a former member of Committee on Elimination of Discrimination Against Women, Sri Lanka, Dr. Mikiko Otani, current member of Committee of Rights of Child, Japan, Miloon Kothari, independent expert and former Special Rapporteur on Adequate Housing, India, Sanjoy Hazarika, Director CHRI, Sara Hossain, lawyer, Bangladesh, and members from National Human Rights Commission of Bangladesh, having prior experience with treaty bodies.
Press: Navhindtimes.in | Business Standard
For further information, please contact:
Yashasvi Nain- Programme Officer, Strategic Initiatives Programme at yashasvi@humanrightsinitiative.org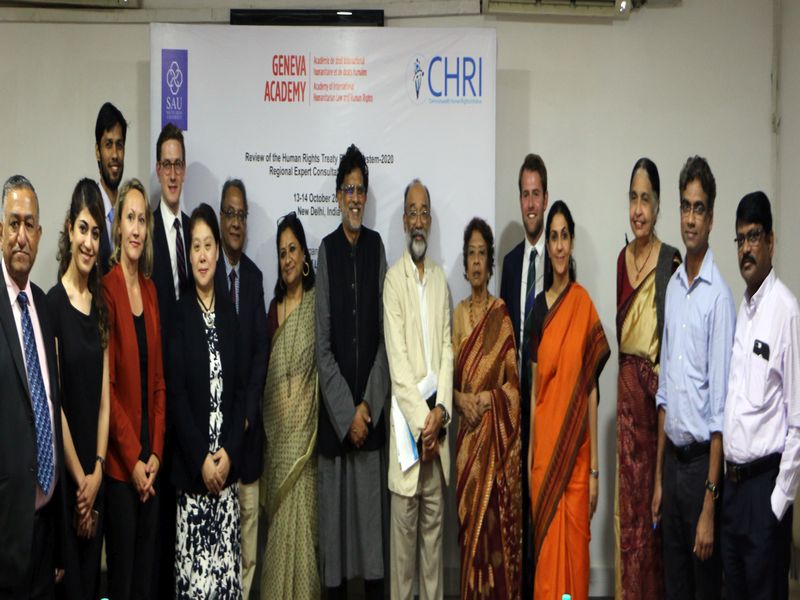 Experts on Treaty Bodies at the Regional Consultation at South Asian University, New Delhi.