Experts Call for Accountability in UN Human Rights Council: CHRI report on Pakistan, Kenya, Australia, UK, Rwanda, South Africa and Nigeria released
---
Geneva -- Citing the poor quality of compliance by Commonwealth countries with their international commitments at the UN Human Rights Council (HRC), human rights experts and civil society groups strongly attacked what they called the 'undemocratic practice' of clean slate elections at the HRC and demanded that nations be held to account back home for pledges made in international fora.
"Pakistan has 16 outstanding visit requests, and the problem with its pledges is that they are vague and not time-barred," declared Christine Chung from the Asia-Pacific section at the Office of the High Commissioner on Human Rights (OHCHR) at the launch of a new report on the gaps between pledges and implementation by HRC members by the Commonwealth Human Rights Initiative (CHRI).
The report, Easier Said Than Done (ESTD) - 'Pledges and Performance: Holding Commonwealth members to account at HRC' was released at an event at the HRC on June 29 and evaluated the performance of seven elected Commonwealth member countries -- Australia, Kenya, Nigeria, Pakistan, Rwanda, South Africa, and the United Kingdom -- at the previous 37th HRC regular session.
Australian and British diplomats present supported the report's findings, some of which were critical of their countries' record at the HRC.
ESTD is the latest in a series of ESTD reports over the past years which challenge, review, analyse the functioning of HRC members and recommend changes in process and capacity. Richard Bourne of the Ramphal Institute, London, who underlined the need for competitive and not consensual "clean slate elections to the Council, moderated the panel discussion.
About 50 people attended the briefing, representing a number of Commonwealth countries and including diplomats and CSOs, which was held at the Palace of Nations in Geneva, home to the HRC.
Highlighting the accountability of several Asian nations to the Council and their adherence to their pledges, Ms. Chung commented positively on first-time member Australia's participation and cooperation while noting that Pakistan, a third-time member, needed to be more specific in its pledges and engagement.
R. Iniyan Ilango, UN Advocacy Programme Manager at FORUM-ASIA, stressed that vagueness of pledges made it difficult to follow implementation at national level. He suggested that recommendations in the Universal Periodic Review (UPR) process and submissions to treaty bodies could be made on the basis of state pledges.
Nicolas Agostini, Representative to the United Nations in Geneva for DefendDefenders said, there was a need for additional incentives to submit pledges and commitments; 'Clean slate' or uncontested elections to the Council devalued such pledges, he asserted.
Other speakers included Miloon Kothari, former UN Special Rapporteur on adequate housing and Yashasvi Nain, author of the report.
The Human Rights Council is the UN's premier body on human rights issues. It has 47 member-states, elected for three year terms, and the United States has just withdrawn. CHRI is working to enhance meaningful engagement of Commonwealth countries with the Council and its mechanisms, and of civil society with Commonwealth representatives in Geneva.
CHRI is an independent, non-governmental, non-profit, organisation headquartered in New Delhi, with offices in London, United Kingdom and Accra, Ghana, and works for the realisation of human rights across Commonwealth countries. It has special consultative status with the UN Economic and Social Council and is recognised for its expertise by governments, oversight bodies and civil society.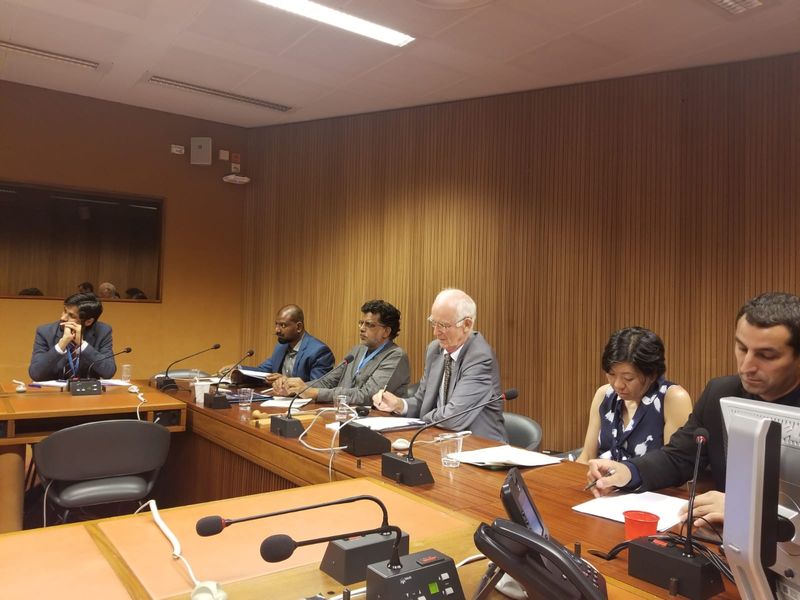 From left to right: Yashasvi Nain, R. Iniyan Ilango, Miloon Kothari, Richard Bourne, Christine Chung, Nicolas Agostini
For more information, please contact:
Yashasvi Nain
Programme Officer, International Advocacy and Programming (IAP)
yashasvi@humanrightsinitiative.org, +91-7297041155 (WhatsApp)