Event (Sri Lanka): "Role of Parliament of Sri Lanka in protecting democracy, human rights and the Rule of Law"
---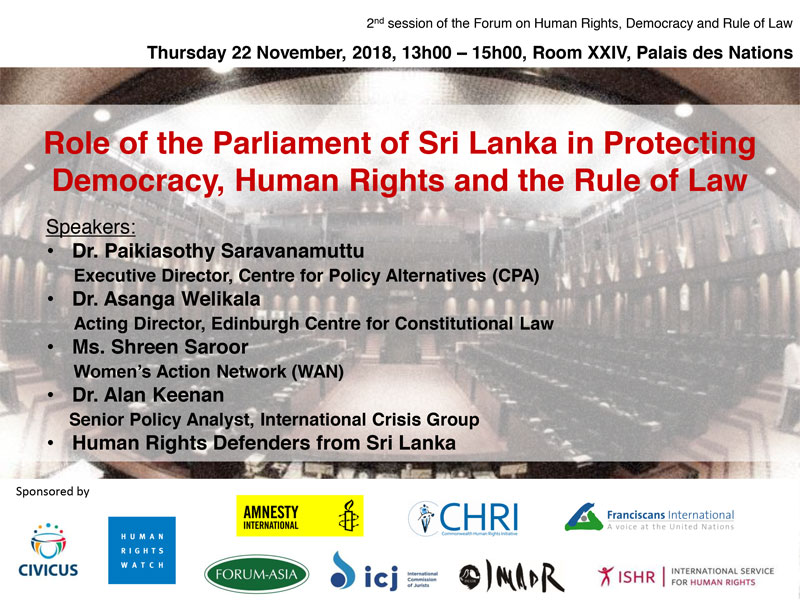 An event jointly organised by CHRI, ISHR, HRW, Amnesty and CIVICUS, among others at the Democracy Forum on the "Role of Parliament of Sri Lanka in protecting democracy, human rights and rule of law" on 22 November in Room XXIV of the Palais des Nations in Geneva.
In light of series of events since 26 October 2018, Sri Lanka is facing an unprecedented constitutional and parliamentary crisis in which the principles and traditions of Asia's oldest parliamentary democracy have been questioned as a result of a so-called "constitutional coup". This event aims to bring members of Sri Lanka civil society together to share their perspectives on the current crisis with members of the HRC and other parties.
Complete list of co-sponsors: Human Rights Watch (HRW), Amnesty International, CIVICUS, International Commission of Jurists (ICJ), Asian Forum for Human Rights and Development, Franciscans International, International Service for Human Rights (ISHR), the Commonwealth Human Rights Initiative (CHRI) and the International Movement Against All Forms of Discrimination and Racism (IMADR).