End persecution of journalists critical of the govt, SAMDEN urges the Philippines
---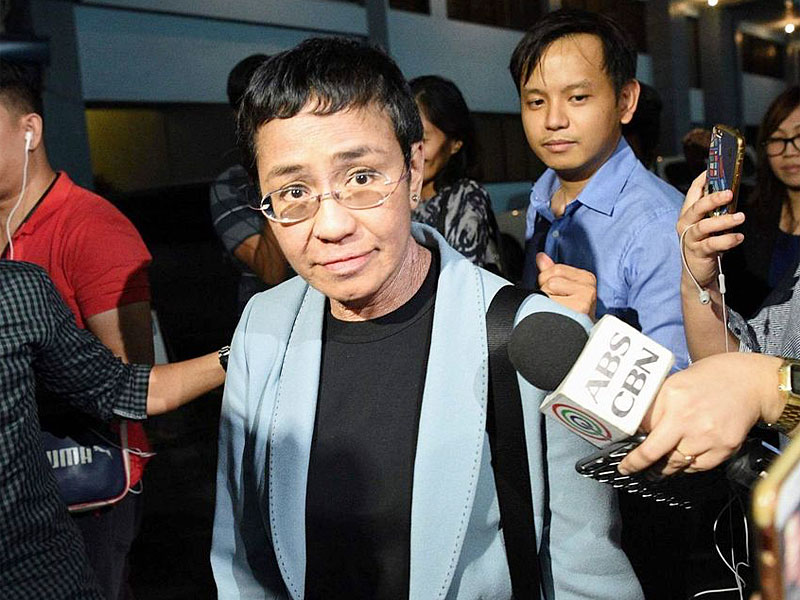 AFP/Ghetty Images
New Delhi, February 15: The South Asia Media Defenders Network (SAMDEN) urges authorities in the Phillipines to drop all charges against noted journalist Maria Ressa and to respect journalists' legitimate right to report on matters of public interest including alleged acts of corruption and abuse of human rights, in accordance with the Philippines' commitments under domestic and international law.
SAMDEN expresses alarm over frequent attacks against journalists and the high number of unsolved media killings in the Philippines, and the fact that these attacks appear to directed almost exclusively against journalists who are critical of the ruling dispensation.
As many as 74 journalists have been killed in the country since 2000, including 12 murders under President Rodrigo Duterte's leadership alone. Philippines was declared "the deadliest peacetime country for journalists in Southeast Asia" in a December 2018 report by the International Federation of Journalists (IFJ). The report also ranked the country as the worst offender in media impunity in the region.
Journalists in the Philippines, especially those reporting on sensitive stories, are frequently hit by legal attacks or by targeted online trolling -- sometimes by individuals holding government posts.
Maria Ressa was arrested last evening under the country's "cyber libel" law after a businessman's complaint over a story she published in May 2012 which discussed his alleged links to illegal drugs and human trafficking. Because of what appeared to be a carefully orchestrated arrest (she was detained just before the cut-off time for courts to process bail payments), Ressa was forced to spend the night in jail, following which she was released on bail.
SAMDEN extends its support to Ressa and her publication, Rappler, and acknowledges the immense pressure under which Filipino journalists work under. It joins other human rights groups in urging its government to heed calls for creating an open and transparent environment for its media, one that leaves no space for the harassment and intimidation of journalists.
Signed:
Rita Payne, Journalist and Media Adviser, President Emeritus, Commonwealth Journalists Association
Kanak Dixit, Writer and Founding Editor, Himal Southasian, Kathmandu, Nepal
Sangeeta Barooah Pisharoty, Deputy Editor, The Wire
Nidhi Razdan, journalist and Executive Editor, NDTV
Siddharth Varadarajan, Founding Editor, The Wire
Beena Sarwar, journalist and film-maker, Pakistan/USA
Aunohita Mojumdar, Associate Editor, Himal Southasian, Sri Lanka
Shailesh Gandhi, Former Central Information Commissioner, RTI activist
Dileep Chandan, Editor, ASAM BANI, Guwahati, Assam
William Horsley, Coordinator, Media Freedom Committee of the Commonwealth Journalists Association
Kalpana Sharma, Readers' Editor, Scroll.in, India
Jayanta Bhattacharya, Bureau Chief, Press Trust of India, Agartala, Tripura
Ehsan Ahmed Sehar, President, Rural Media Network Pakistan
Preeti Gill, independent editor, publishing consultant and literary agent, India
Mahfuz Anam, Editor and Publisher of The Daily Star, Bangladesh
Sanjoy Hazarika, International Director, Commonwealth Human Rights Initiative (CHRI)
Venkatesh Nayak, Coordinator, Access to Information Programme, CHRI
Richa, Media and Communications Officer, CHRI