CHRI: UK decision to revoke citizenship of 'ISIS bride' violates national law, international obligations
---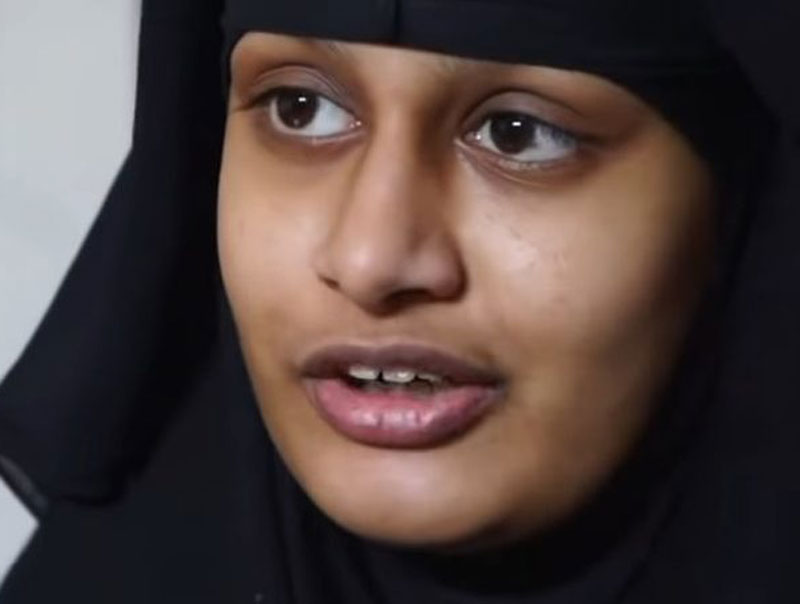 Photo: BBC/Screengrab
New Delhi, March 7: The Commonwealth Human Rights Initiative (CHRI) expresses grave concern over the decision of the UK Government to revoke the citizenship of Shamima Begum, described in media reports as an 'ISIS bride', saying the decision by Home Secretary Sajid Javid risks rendering both Shamima and her baby stateless.
"We wish to underline that such a move is in violation of both the UK's own nationality laws as well as its international obligations," said Sanjoy Hazarika, CHRI's International Director.
The 19-year-old woman of Bangladeshi origin had travelled to Syria when she was 15, has recently become a mother and has expressed a desire to return to the UK, triggering a public furore. Her husband is a Dutch national who says that he is prepared to take her to the Netherlands where he is likely to face criminal prosecution for his role in fighting with ISIS.
Section 40(2) of the 1981 British Nationality Act confers on the Home Secretary the power to make the final decision on the deprivation of nationality, based on what is "conducive to the public good" and if the conduct of the impugned individual "is seriously prejudicial to the vital interests of the United Kingdom," unless such deprivation results in statelessness. The current decision is based on a presumption without any competent authority having decided on whether Shamima holds Bangladeshi citizenship.
CHRI notes that in 2018, the Home Office Minister, Ben Wallace, had confirmed that around 400 British citizens had returned to the country from the Middle East, after having fought for groups such as ISIS – and that they were tried and prosecuted in the UK.
"The fact that the British-origin combatants were allowed to return – while the Home Office currently decides that it is necessary to strip Shamima of her citizenship on the basis of a presumed Bangladeshi nationality – makes its decision inherently discriminatory and arbitrary," said Richard Bourne, a member of CHRI's UK Executive Committee.
CHRI calls on the Human Rights Joint Committee in Parliament to conduct an inquiry to ensure that the Home Office follows due process in such cases and adheres to norms and obligations under international human rights treaties.
"If the Home Secretary has reasonable grounds of her being a threat to national security, the government should fairly investigate and charge her instead of arbitrarily taking away her citizenship," said Joanna Ewart-James, International Chair of CHRI's UK Executive Committee.
Hazarika also said that the UK government should respect Shamima's right not to be arbitrarily deprived of her British citizenship and urged a fair trial should there be sufficiently strong grounds for prosecution.
*********
For further details, please contact CHRI Media and Communications Officer, Richa (richa@humanrightsinitiative.org)