CHRI response to MHA advisory to states mandating filing of FIRs
---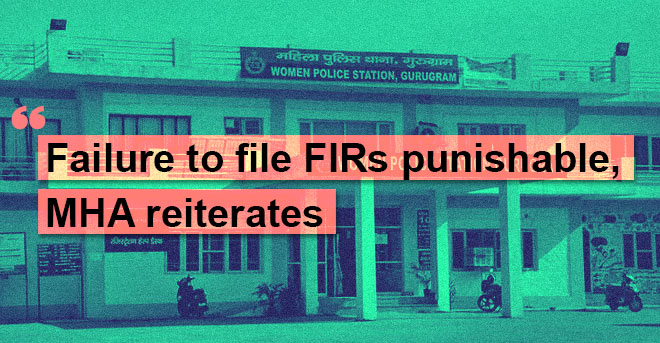 The Commonwealth Human Rights Initiative (CHRI) appreciates and supports the advisory by the Ministry of Home Affairs (MHA) on 16 May 2019 on the "failure to record information under Section 154 (1) of CrPC punishable under Section 166A of IPC" issued to the Additional Chief Secretary/Principle Secretary/Secretary of the Home Departments of all states and Union Territories.
The law, IPC Section 166 A(c), is very clear and mandates the punishment of police personnel who refuse to register FIRs in relation to cognisable offences under sections 326A, 326B, 354, 354B, 370, 370A, 376A, 376AB, 376B, 376C, 376D, 376DA, 376DB, 376E or 509. Unfortunately, there is no official data available on this section and awareness of police personnel too in regard to this section is scant.
The MHA had issued two advisories in February 2014 and May 2015 emphasising compulsory registration of FIRs, especially on the commission of cognisable offences, which includes sexual assault cases. However, recent incidents of rape in Mohali, Hapur and Alwar show that the problem of non-registration of FIRs persists across the country.
A Constitution bench of Supreme Court too in the case of Lalita Kumari V State of UP & Ors held mandatory registration of FIR under Section 154 CrPC, if the information discloses the commission of a cognisable offence and no preliminary inquiry is permissible in such a situation. We urge that the advisory be followed in letter and spirit by all the DGs/CPs of all the states and Union Territories to wipe out the problem of non-registration of FIRs -- especially in cases of gender-based violence.
You can read the MHA advisory here.