CHRI leads Commonwealth discussion on pressures on the media in South Asia.
---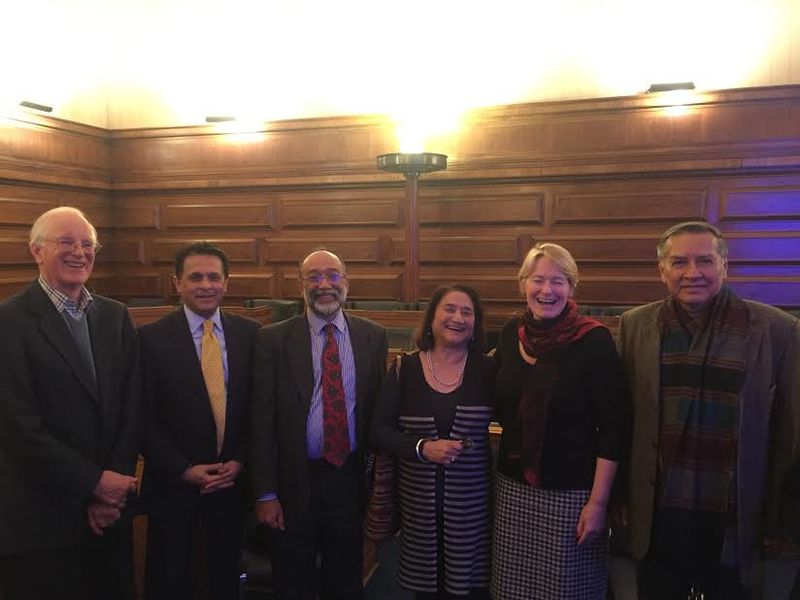 L-R: D.Page, A.A.Siddiqui, S.Hazarika, R.Payne, S.Onslow (ICwS), M.Anam
March 1, 2017
March 1st saw an all star lineup join CHRI's panel discussion at the Institute of Commonwealth Studies, London.
Rita Payne, CHRI board member, chaired the panel which included, Sanjoy Hazarika, CHRI Executive Director, Mahfuz Anam of the Bangladesh Daily Star, Aftab Arif Siddiqui of the Pakistan Express Tribune, and David Page, formerly of the BBC.
Hazarika opened the discussion with the observation that 'we live in strange, troubled, and confusing times' and gave examples of the sometimes extreme pressures on journalists. Anam observed that media pressure was not new, but a worrying current development was the public's lack of faith in them, partly due to journalists allowing themselves to become politicised. Rita Payne agreed with Mahfuz Anam commenting that it is 'troubling that the media is being used to turn on itself.'
Speaking last, David Page struck a positive note on recent improvements in Sri Lanka, but in general the panel were in agreement that the situation in the region was deteriorating.
The event closed with a discussion with the audience, including on the effects of what was described as the 'tsunami of social media', and the two hour session closed with a warning from Hazarika that terrible things can happen 'on the coattails of populism.'