CHRI applauds release of Shahidul Alam, held for 108 days in Dhaka
---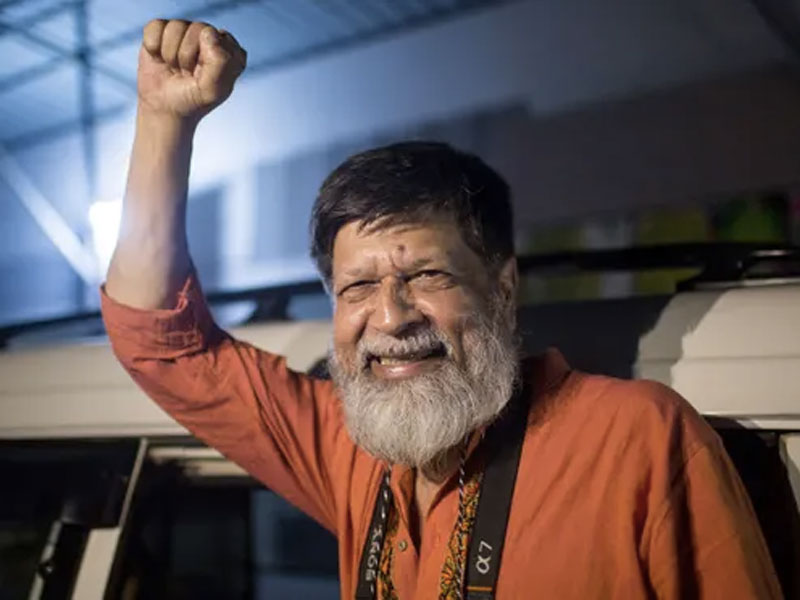 (Photograph: Suman Paul/AFP/Getty Images)
Dhaka, November 21: The release of the internationally acclaimed Bangladeshi photographer Shahidul Alam has been hailed by the Commonwealth Human Rights Initiative (CHRI) as "as an example of justice being delivered, despite many delays at different levels."
Dr. Alam was set free on bail yesterday evening after day-long wrangles between his lawyers and jail authorities in Dhaka over a purported "discrepancy" in the prison's address in bail documents which threatened to delay his release. The wrinkle was ironed out and he emerged to hold aloft a camera in what CHRI described as "a symbolic statement of the freedom of media".
Dr. Alam's release capped a dramatic legal struggle which lasted the duration of his detention -- 108 days for alleged violations of the country's sweeping Information Communication and Technology (ICT) Act and allegedly bringing Bangladesh into disrepute with his criticism of last August's crackdown against students protesting traffic violations.
"We celebrate Shahidul's release as among the best pieces of news in many month. It underlines the importance of collaborating across geographies for the common cause of a free media," said Sanjoy Hazarika, CHRI's International Director. Dr Alam had been granted bail by the high court last week but his release was delayed by government appeals against his release and procedural wrangles.
"Shahidul wishes to thank everyone in Bangladesh and abroad for their unflagging support and he is very glad to be free again," said his lawyer, Sara Hossein.
CHRI and the South Asian Media Defenders Network (SAMDEN) urged the Bangladesh government to drop the cases against Dr. Alam, who has long been a vivid and renowned documenter of his country's struggle for liberty and equality. His work was showcased at the Commonwealth Heads of Government Meeting (CHOGM) in London last April. CHRI stressed that Bangladesh's media had publicly denounced the ICT act, calling it inimical to press freedom.
SAMDEN has campaigned extensively for the photographer and human rights activist's release. An international "Free Shahidul" campaign was joined by UN officials, Nobel Prize Winner Amartya Sen, media leaders and human rights groups.
Earlier, on Tuesday, lawyers for Dr. Alam had said that his release on bail by a High Court order had been blocked by jail authorities citing "the petty issue of discrepancy in jail address".
***
For more details, contact
Sanjoy Hazarika, International Director, CHRI, at sanjoy@humanrightsinitiative.org or
Richa, Media and Communications Officer, CHR, at richa@humanrightsinitiative.org