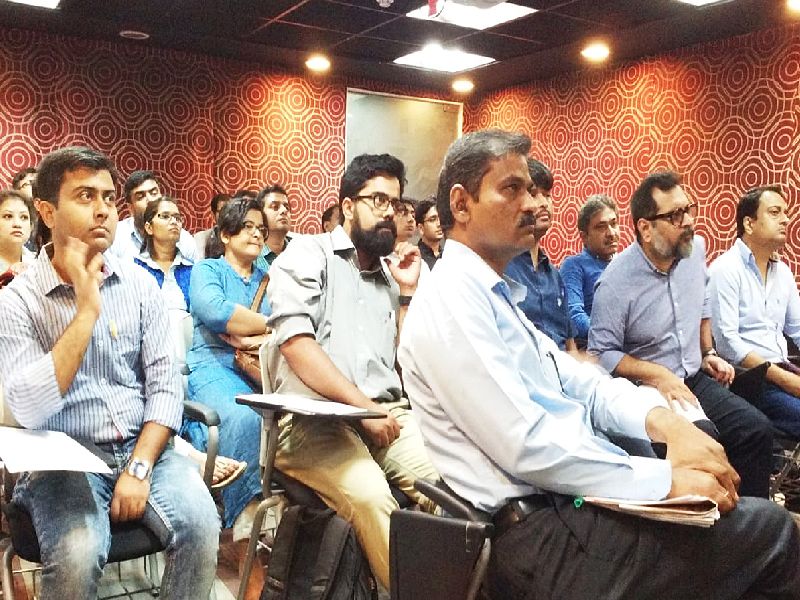 CHRI's Access to Information team held two back-to-back workshops with media persons and journalists on "The Use of RTI in Journalism" on October 8 and 9, 2018, in Kolkata.

On October 8, more than 20 senior editors and reporters, and bureau chiefs from The Telegraph and Ananda Bazar Group of publications convened at the Calcutta Media Institute for the day-long capacity-building workshop that covered exercises in RTI drafting and dialogue.

On October 9, our workshop was conducted in collaboration with the Mahanirban Calcutta Research Group, and covered the basics of filing RTIs and improving professional reporting by holding governments accountable, addressing 23 senior journalists, including six from the North East, five from Orissa and rural correspondents.

We are pleased to announce that these workshops have resulted in the participants pledging to play a more pro-active role in spreading information about RTIs. Along with the launch of a WhatsApp group to help all participants stay in touch, a senior journalist proposed conducting more RTI media capacity building workshops for rural journalists in the eastern Indian states and agreed to take the lead for organising the first in 2019.

The journalists further said that they planned to file specific information requests on issues relevant to their states — including environmental concerns, infrastructure safety and hazards as well as holding those holding public office to account.

These workshops were led by our Access to Information Programme coordinator Venkatesh Nayak, programme officer Shikha Chibber, and resource person Manjunath GV from Karnataka. CHRI International Director Sanjoy Hazarika also participated in the programmes which aimed at helping journalists use RTI as a professional tool for better reporting.

In the 13 years of its existence, RTI has energised citizen activism across the country and become a powerful tool for strengthening democracy through transparent and accountable governance. While a handful of media houses have adopted a policy of using RTI as a professional tool to gather research and solid documentation for sustained and robust investigative reporting, this has not become a widespread trend yet.

We believe that RTI can be a strong tool for holding government accountable and look forward to several such fruitful workshops with journalists in South Asia in the future. And therefore, these trainings are part of a series of workshops that CHRI is conducting in India and Bangladesh to encourage journalists to use the RTI Act as another professional source for fact-checking and gathering. We seek to enable news reporters to use the Act for evidence-based research which can help media organisations run focused campaigns on issues of public interest. To this end, we have in the past also conducted trainings in Delhi, Dhaka, Srinagar and Guwahati. Watch this space for upcoming trainings and workshops!