Palestinian makes desperate efforts to return home to Gaza
---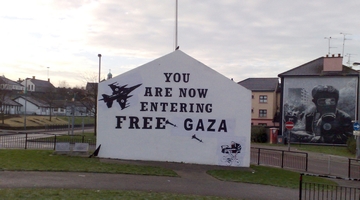 By Pradipta Tapadar (PTI)
Kolkata - 13 May 2016
Twenty-seven years after he came to India with the dream of graduating from a university in the country, Fatouh Ahmed Mahmud Abu Satta is facing an uncertain future as his return to his home in Gaza in Palestine is stuck in red tape.
Fatouh landed in India in 1989 when he was 22 years old and just six years after that he was sent to a prison, though his brush with the law-enforcing authorities began in 1993 when he was first arrested in Nagpur under the Foreigners Act
for overstaying.
He was released on bail shortly after, but his travel documents were seized.
He again got arrested for alleged criminal activity in Delhi and West Bengal and was sent to prison in 1995. Since then he has been serving his time in a West Bengal prison. He completed his sentence in 2013, but for absence of proper documents he was not released.
Director-General of Correctional Services in West Bengal Arun Kumar Gupta told PTI, "We couldn't release him in 2013 after his prison term was over as he did not have any proper papers. And it is a normal procedure that if a foreign convict doesn't have any proper papers we can't leave him after he completes his term. Later on an initiative of CHRI, an NGO working on refugees, got in touch with the embassy of Palestine and got his papers."
"He was eventually released from prison on May 11, but he could not board the flight as the Emirates Airlines refused to let him fly as he was a deportee, leading to his return to jail again," Gupta said.
This fact was confirmed by the Emirates Airlines.
On a query, a spokesman for the airlines said in a statement, "Emirates confirms that a passenger who was booked on our flight EK 573 departing from Kolkata to Cairo via Dubai on 11 May this year was a deportee. The passenger was denied boarding due to lack of necessary permits from some of the concerned authorities in India and the United Arab Emirates."
Fatouh Ahmed now has to wait for another few months before the Gaza borders opened again and talks were on with the airlines, apart from the Emirates Airlines, to take him to his county, Gupta said.
The Egyptian authorities on Wednesday opened the Rafah border crossing into the Gaza Strip for just two days. The last time the crossing was opened was on February 13. Theclosure of the Rafah border – Gaza's main gateway to the outside world – is the result of a friction between Cairo and the enclave's Hamas rulers.
Little aware of the fate awaiting him, Fatouh told PTI just minutes before entering the airport on Wednesday evening, "I feel it's a dream come true that I am going back home. I have never thought that this day will come. I will go back and start a family and will love to come back to India again with my family."
Fatouh Ahmed, a resident of Gaza, went to meet his aunt in Egypt in 1987 and obtained travel documents from Egypt under the Casablanca Protocol 1965.
An NGO named Commonwealth Human Rights Initiative (CHRI), which works in coordination with the United Nations High Commissioner for Refugees (UNHCR), managed to arrange his legal papers in coordination with the Palestine Embassy in New Delhi and the West Bengal state Correctional Department to facilitate his return to his family in Gaza.

It was decided that he would enter Gaza through Cairo when the border opens up for two days, but that was not to be.
Madhurima Dhanuka, Consultant of CHRI said, "We had a mere 48-hour deadline to arrange the necessary documents. Now he must wait for months till the gates are open again."
She regretted the fact that they could not arrange for the travel papers despite best efforts by all those involved including the Foreigner Regional Registration Offices (FRRO) and the Palestinian embassy.

According to CHRI, project manager, Mrinal Sharma, the Emirates Airlines, which was scheduled to take him to Dubai and from there to Cairo, refused to let him board the plane as the transit time was much higher than permitted for the
deportees.
According to CHRI and West Bengal Jail officials, initially Fatouh, popularly known as Emry Rozy, was considered to be a Egyptian national due to his travel documents being issued from Egypt. But later on during the nationality verification process, it was disclosed that he was a Palestinian.

"The entire process got delayed because there was no proper documents. The Palestinian embassy verified his nationality and locates his family in Gaza in February this year. Later on a tele-conference was facilitated between Fatouh's brother and his immediate niece," Sharma told PTI.
Sharma said that due to his long stay in India, Fatouh forgot his mother tongue Arabic and now spoke only in English or Hindi.