CHRI calls for "resolute action" against Maldives by CMAG
---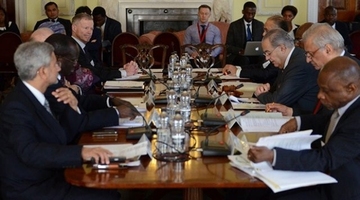 Commonwealth Human Rights Initiative (CHRI) has submitted a report to the Commonwealth Ministerial Action Group (CMAG) on the current situation of the Maldives, calling on the group to take "resolution action" against the Maldivian government.
CMAG is set to hold a meeting in London tonight to review the political situation in Maldives.
In its report, the CHRI welcomed both the wording and spirit of the Concluding Statement of CMAG's Extraordinary Meeting held 2016, and noted monitoring has shown that human rights, democracy and the rule of law remain under grave threat in the Maldives.
"The situation has further deteriorated in recent weeks with continued attacks on the political opposition, a rollback of constitutional rights, additional restrictions on press freedom, and arbitrary and excessive judicial action", the report read.
CHRI applauded the steps taken by CMAG members and the Commonwealth Secretariat to develop a first-hand understanding of the situation, including the meeting with both government and opposition leaders by Secretary-General Baroness Scotland in recent weeks, and the visit of Deputy Secretary-General Dr. Josephine Ojiambo to the Maldives.
CHRI also expressed support for the approach adopted by the Commonwealth to engage with the Maldives in a "positive, forward-looking and consultative spirit".
"However, the lack of substantive progress in priority areas identified by CMAG in its statement of 24ruary, outlined below, is overwhelming", it added.
The report further highlighted the regressive steps taken by the Maldivian government since the last CMAG meeting, including the government's failure to engage and initiate political dialogue, the amendment to the Anti-Terror Act, the introduction of the Defamation Bill, the court-ordered closure of the country's longest running daily newspaper Haveeru, and the recent arrest of sixteen journalists from a press freedom demonstration.
In light of the developments, the CHRI called on CMAG to recognise publically the Maldivian government's failure to properly address the priority areas identified by CMAG in their 24th February 2016 Statement, highlight the grave and persistent threats to democracy, human rights, and rule of law in the Maldives and the call for immediate and constructive action by all parties, establish an action plan with the government of the Maldives which contains measurable outcomes and agreed timelines to move towards Commonwealth values laid out in the Commonwealth Charter, the Latimer House Principles, and the Aberdeen Agenda, call on the Government of the Maldives to ensure adequate space and protection for civil society and make it clear that if there is no measurable progress made, CMAG will consider using its authority to suspend the Maldives.