Your Opinion matters: CHRI INVITATION FOR LAUNCH OF CRIME VICTIMISATION AND SAFETY PERCEPTION: A PUBLIC SURVEY OF DELHI AND MUMBAI
---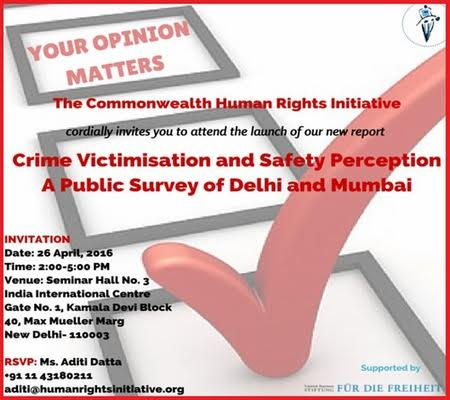 We all know crime statistics play an important role for the police to make informed judgments about crime prevention, response strategies, and allocation of scarce resources. Keeping this in mind, CHRI in partnership with Nielson India undertook a crime victimization and safety perception public survey in the two cities of Delhi and Mumbai in 2015. This is one of the first efforts to conduct a public survey on crime victimization and public safety perception in India.
The survey report captures: respondents' experiences of crime (both reported and unreported to the police), satisfaction with the first response of the police, reasons for not reporting crime, and overall safety perception.
Particularly, it provides an estimate of crimes (of the crime categories surveyed namely theft, assault, house break-in, sexual harassment, criminal intimidation, unnatural death and missing persons) which do not get reported to the police – crucial data which can only be gathered through public surveys. It also presents other valuable information about the nature of crimes, such as location and timing of incidence, and the relationship between victims and alleged perpetrators. Notably, the report demonstrates how such data can be used to help the police and government identify and answer important questions about crime and safety, initiate planning, allocate resources, and develop partnerships to implement new and better crime prevention and reduction strategies, public engagement initiatives, and more.
To mark the report's launch, a panel of experts will discuss the findings, conclusions, and major themes of the report.