National Conference on 'First Response, Good Policing and Rape Survivors'
---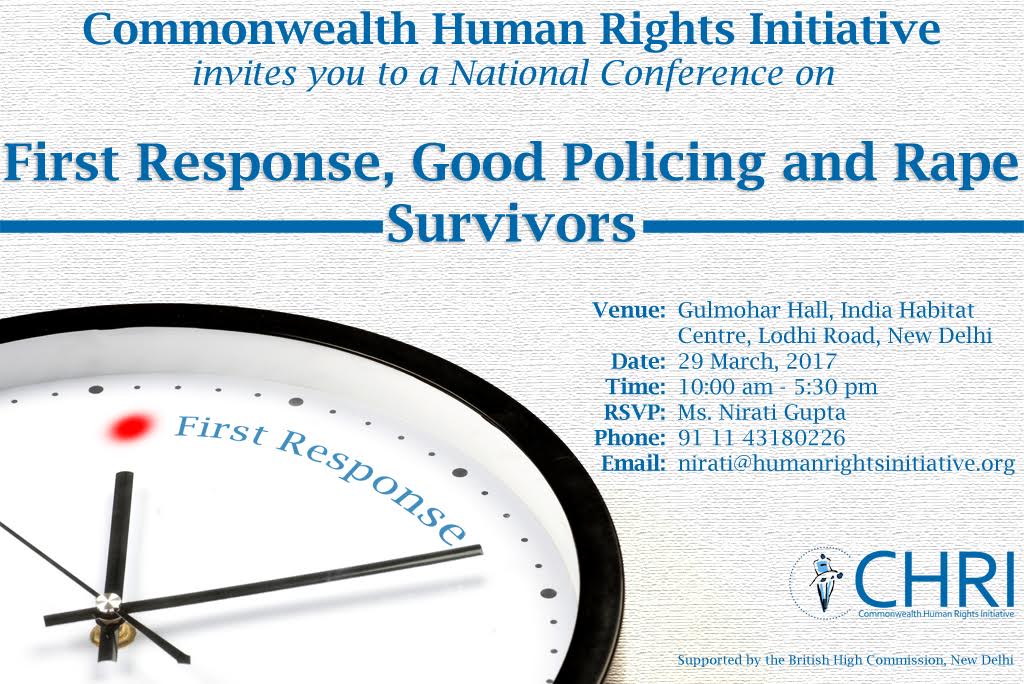 Date: 29 March 2017
Place: New Delhi
Seeking to bridge gaps in police response to victims of rape and sexual assault, the Commonwealth Human Rights Initiative (CHRI) is convening a National Conference on 'First Response, Good Policing and Rape Survivors' here on 29th March (Wednesday).
The conference will focus on ways to improve the police response to women, particularly to rape survivors, with a focus on New Delhi and Mumbai. It will bring together senior police officers, civil society, lawyers, journalists, academics, and independent commissions to share knowledge, take stock of good practices, and chart out a way forward to address challenges.
Those scheduled to take part in the program include Swati Maliwal, Chairperson, Delhi Commission for Women; Sanjay Beniwal, Special Commissioner, Women's Safety, Delhi Police; Andrew Mackenzie of the British High Commission; Vrinda Grover, prominent lawyer and human rights activist; Flavia Agnes, Co-Founder, Majlis, Mumbai, and Kanwaljit Deol, Director General of Police (Retd.).
Discussions will revolve around the initiatives being taken by the police in Delhi and Mumbai to improve women's safety and the key interventions required to support rape survivors. In a new initiative, CHRI will also release a short film on the work and challenges before the police and other responders in the crucial first 24 hours after a rape survivor comes to the police with her complaint.
Other scheduled speakers are Brijesh Singh, Inspector General of Police, Cyber and Prevention of Atrocities against Women, Maharashtra Police, Bharti Sharma, Honorary Secretary, Shakti Shalini, Delhi and Nayreen Daruwalla, Programme Director, SNEHA, Mumbai.
For more information, please write to: nirati@humanrightsinitiative.org