Making the Right to Information a reality in Sri Lanka: The Role of Non-State Actors
---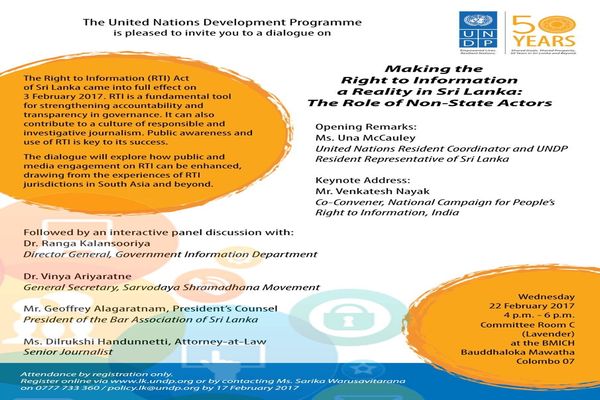 The United Nations Development Programme (UNDP) Sri Lanka is hosting a dialogue on the country's recently implemented Right To Information Act (RTI) on February 22 from 4.00 pm to 6.00 pm at the Bandaranaike Memorial International Conference Hall, Colombo. The dialogue will explore how public and media engagement on RTI can be enhanced, drawing from RTI jurisdictions in South Asia and beyond.
Opening Remarks: Ms. Una McCauley, UNDP Resident Representative in Sri Lanka
Keynote Address: Mr. Venkatesh Nayak, Programme Coordinator, Access to Information Programme, Commonwealth Human Rights Initiative and Co-convener, National Campaign for People's Right to Information, India.
This will be followed by a panel discussion with:
Dr. Ranga Kalansooriya - Director General, Government Information Department
Dr. Vinya Ariyaratne - General Secretary, Sarvodaya Shramadhana Movement
Mr. Geoffrey Alagaratnam P.C. - President of the Bar Association of Sri Lanka
Ms. Dilrukshi Handunnetti, Attorney-At-Law - Senior Journalist