CHRI Brown Bag with Mr. R. K. Mathur
---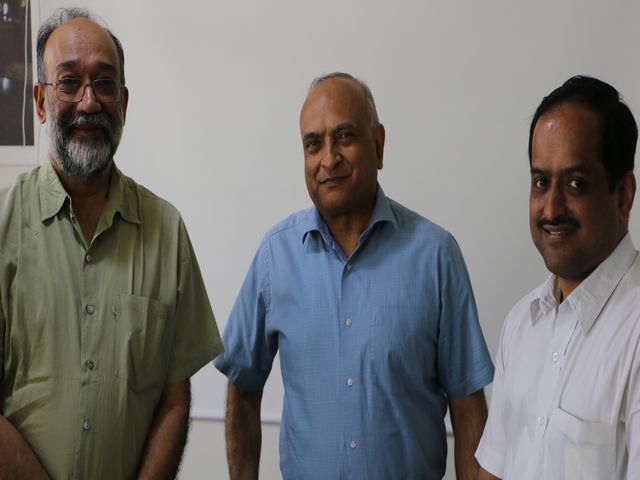 (L-R) Mr. Sanjoy Hazarika (Director), Mr. R. K. Mathur and Venkatesh Nayak
New Delhi, 29th May 2017-- The Commonwealth Human Rights Initiative (CHRI) hosted a brown bag lunch with Mr. R. K. Mathur, Chief Information Commissioner, Central Information Commission (CIC), who spoke about his experience of implementing RTI (Right to Information) through the CIC.
Initiating the conversation with the advent of the Right to Information Act, 2005, Mr. Mathur stated that the impact of the Act could be seen in a week of its enactment through markedly changed behaviour of the political executive- in his experience, this took the form of officers and ministers becoming wary of writing any advice on file that would not be defensible in the public domain. The very existence of the Act, he said, has brought about change.
He pointed out specifically that it is important that the Information Commission interacts with various stakeholders for the effective implementation of this Act, and that his primary function was that of an adjudicator. He said the bulk of RTI questions related to a handful categories, namely, land records, health, rural development and education. Taking questions from the audience, he discussed at length the issues of pending RTI appeals, public good, vexatious applications, privacy, attacks on RTI activists, etc. He also spoke about the need for consistency in the orders of ICs, and the importance of the law bring implemented in both letter and spirit.
Concluding the conversation, he maintained that an ideal scenario would be one where the government becomes transparent enough in its functioning so that citizens no longer have to file RTIs, and the Act itself would eventually become redundant.
Mr. Sanjoy Hazarika, Director, CHRI, and Mr. Venkatesh Nayak, Coordinator of the Access to Information Programme, moderated the discussion, which is part of a series of brown bag lunches with subject experts scholars, professionals and others enabling them to speak on issues of their concern and interest and provide a discussion forum with CHRI staff.