Reforming Kenya's Counter-Terrorism Strategy: What Should the Commonwealth Do?
---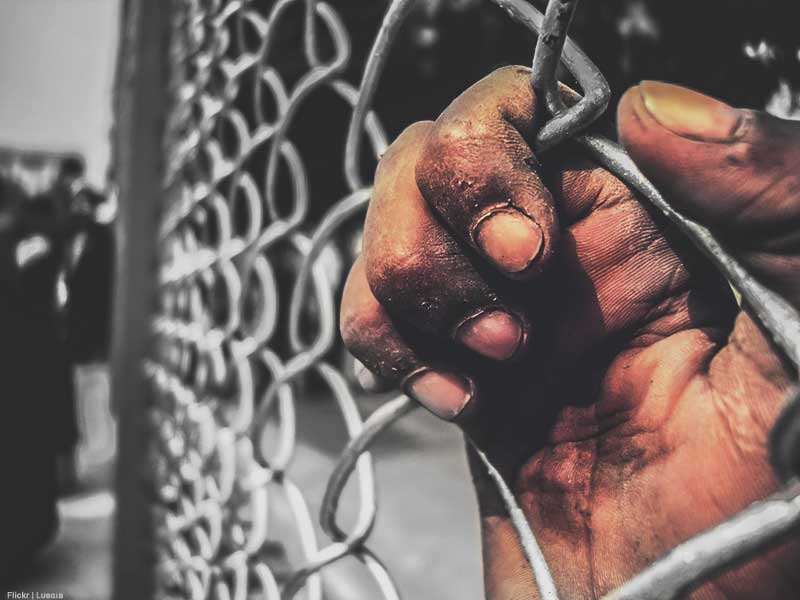 18 March, 2016
By Uladzimir Dzenisevich
On the night of 4th May 2015, around 9:00 pm, 48-year-old Affey Ali was sitting outside his home in Shalatey village, Wajir County, in North East Kenya, when men in military fatigues approached him and ordered him to lie face down. After robbing Ali of 3000 Kenyan Shillings (about $30) the men asked him whether he knew a man called Hussein Ali Abdullahi. He did. Hussein was Ali's brother and lived close by.
In a nightmarish sequence of events which have never been explained to Ali or anyone in his family, Ali was taken to the Wajir Police station where he spent the next two nights. On the night of Wednesday, 6th May 2015, Ali was blindfolded and put into what he believed was a pickup truck. He recalls four men in the truck speaking in Swahili which meant they were not locals. Ali was forced facedown on the floor of the pickup as the men held him down with their feet. They drove for a while and stopped. He was then transferred to an aircraft. An hour later he opened his eyes to find himself in a small room.
Ali was served bread and tea the next morning before the torture began. His captors accused Ali of having links with Al Shabab, the terror group. He denied he had anything to do with terrorists.
For the next several days Ali was starved, whipped, kicked repeatedly, subjected to electric shocks and a mock execution in an attempt to get him to confess he was an Al Shabaab terrorist.
Ali says that by the 9th, three days into the torture, he had started to lose his mind.
The beatings stopped as abruptly as they began. Ali's jailers offered him treatment for the wounds they had inflicted before returning him to Wajir Police Station on 18th May 2015 from where he was released and warned against telling anyone what had happened. Ali would later say that during his detention he had heard his brother Hussein Ali screaming in an adjacent room. No one has seen Hussein Ali since.
Affey Ali's nightmare has been shared by dozens of men and women in North East Kenya. In the wake of numerous terror attacks across Kenya and the country's own "war on terror", the Kenya National Commission on Human Rights (KNCHR) came out with a report late last year that meticulously documented over 120 cases of gross human rights violations by security forces, including multiple cases of torture, enforced disappearances, extrajudicial killings, arbitrary arrests and other violations of detainees' rights – all of which disproportionately target Kenya's ethnic Somali and Muslim communities.
The accusations are grave, but the government has done little to act upon them and the international community has yet to offer a full-throated condemnation of the atrocities. Can the Commonwealth do more and lead Kenyan authorities on the path to reform?
Human rights violations
Reading the KNCHR report is an alarming experience. Take for instance the case of Mohammed Ware Galgalo from Chomo, about 70 kms north of Nairobi, who was arrested by security forces in 2014. According to the KNHCR he was taken to an unknown location where he was viciously tortured for three days while handcuffed and blindfolded. Galgalo said he was subjected to waterboarding, his feet burnt with hot metal bars, his testicles squeezed with pliers and his face repeatedly slashed with razor blades. After 25 days of torture he was released without charge.
The atrocities reported by KNCHR are unspeakable, but they only occupy the extreme end of a broad spectrum of police and army brutality. Reports of police tear gassing and beating up protestors and activists have become so frequent they seem to be a part of daily life. From tear gassing school children to storming the University of Nairobi campus, the security forces are little different from their colonial era predecessors in their attitude to those they find "troublesome".
"Cheap propaganda" or a matter of concern?
Unsurprisingly the Kenyan government has dismissed the KNCHR report, with police spokesman Charles Owino calling it "cheap propaganda". However the Commission is an independent state body established under the Constitution as "a principal organ of State" that ensures the state's compliance with human rights obligations. Therefore it is not that simple to dismiss the KNCHR's findings as biased and ill-intended, labels often applied to reports written by NGOs that, we are told, act in the interests of their mysterious and elusive "Western masters".
Instead, the Kenyan government should take the matter extremely seriously and, given the challenging circumstances in which the investigation was conducted, compliment the KNCHR on a job well done. According to the report, the KNCHR had to investigate alleged abuses in an environment of insecurity and fear. KNCHR staff were threatened and victims and witnesses intimidated, many of whom refused to testify before the Commission for fear of reprisals from the security forces.
However, the KNCHR's findings are not conclusive and they warrant an independent investigation. According to the Kenyan Constitution, national security is subject to the authority of the Constitution and Parliament, and security agencies that include the army and the police are subordinate to civilian authority. Thus, there is no excuse for the government not to act upon the report. As the KNCHR suggests, the responsibility lies with the Independent Police Oversight Authority, the Inspector-General of Police, the Director of Public Prosecutions, the Kenya Defense Forces Chief and dedicated Parliamentary committees. The Commission also urged the President to acknowledge and condemn the abuses, which would be the right thing to do for a leader who cares about how citizens in his country are treated by his very own security forces.
Addressing the root causes of terrorism
An investigation should be accompanied by understanding root causes of terrorism rather than retaliating in a heavy handed, reactionary manner. Last year the Institute for Security Studies (ISS), an Africa based think tank, published a study called Radicalisation in Kenya, for which it interviewed 95 Al-Shabaab fighters to unearth what led them to terrorism. While radical preachers played a role in luring the youth to Al-Shabaab, it was not the most decisive factor. Rather, political, social and economic oppression was listed as a primary reason for joining the organisation.
The study found that 99% of the fighters were convinced that the government only looked after and protected the interests of a few. Uneven development and unequal distribution of wealth were also cited as reasons fuelling disenfranchisement and conflict. This points at both political and economic marginalisation. Instead of shoving minorities to the sidelines of the national agenda, they must be included in the political process through dialogue and political representation.
Further, when it came to counter-terrorism efforts, discrimination played a big role. According to the KNHCR report scores of Kenyans from the North East and along the coast, areas heavily populated by Kenyans of Somali ancestry, were allegedly detained and tortured. Others went missing following their arrests only to be found dead in shallow graves or have their bodies dumped in the wild or under bridges.
Though Al-Shabaab recruits its members from a diverse pool of ethnic backgrounds, the ISS and KNCHR studies showed that the burden of religious and ethnic profiling is felt most acutely by Kenyan Somalis. They suffer even when going through routine administrative procedures such as applying for national ID cards. The ISS study's respondents stated that, despite being born in Kenya, their fellow Kenyans and especially police officers regarded them as foreigners and enemies. Therefore, the government must commit to a society where minorities do not feel like second class citizens.
Poor quality of education also proved to be an important factor. The majority of respondents in the ISS study did not have the necessary education to be well employed. At all times, education must be on top of the government's security and development agenda, and it is in this context that the ongoing row over teachers' pay should be looked at.
Rethinking Kenya's counter-terrorism strategy
However, for the majority of Al-Shabaab fighters, injustices suffered at hands of Kenya's security agencies was what pushed them over the edge and toward terrorism. Not surprisingly, they referred to the same abuses detailed in the KNCHR report: religious profiling, extra-judicial killings, brutality, arbitrary arrests etc.
Therefore the first step to break the vicious cycle of radicalisation would be to rethink the counter-terrorism strategy.
Abuses recorded by the KNCHR are so widespread and systematic that they cannot be dismissed as sporadic and isolated incidents. Very often the abuses were carried out in the context of well organised joint operations that involved several security agencies, including the army, different police units, intelligence services and even the Kenya Wildlife Service. The degree of collusion between security agencies and the systematic nature of human rights violations indicate a pattern, or even a policy, executed with grim determination and at least some acquiescence from the authorities.
Parliamentarians must think twice before they vote on the KDF (Amendment) bill that undermines civilian authority over the army. According to the KNCHR report, some of the worst atrocities were committed by KDF personnel. Rendering the army even less accountable will only make things worse for the affected communities. Ultimately, all security laws and practices must comply with the Constitution, and the conversation about them should not be a top-down monologue, but a dialogue where voices of both the struggling and the thriving are heard.
In the long run, current approaches to fighting terror will have disastrous consequences for Kenya as a nation. Brutality, discrimination and impunity – traits that today characterise counter-terrorism policies in Kenya – alienate minorities, divide the nation along ethnic and religious lines and fuel discontent and lust for revenge. In the end, when government fights terror with terror, one wonders what distinguishes it from those it aims to defeat.
What should the Commonwealth do?
The Commonwealth should promote this alternative vision of security based on addressing root-causes of insecurity and terrorism through a rights-based approach. This approach is already enshrined in core Commonwealth documents, including the Commonwealth Charter. The Charter, adopted in 2013, lays out the fundamental values the Commonwealth prides itself on – Democracy, Rule of Law, Human Rights, International Peace and Security and Freedom of Expression are five of sixteen values enshrined in the Charter.
Since Commonwealth documents are not legally binding, and the Commonwealth does not currently have a conventional enforcement mechanism such as sanctions or conditionality, it emphasises how "soft power tools" – dialogue and leadership – should be primary means to promote the Commonwealth vision. In practical terms, the Commonwealth Secretariat is the body which makes sure the voice of the Commonwealth is heard.
But the Commonwealth in general, and the Secretariat in particular, should not only lead and promote their vision, they need to support those who fight injustice on the ground on a daily basis. For the Secretariat to succeed in promoting and protecting fundamental Commonwealth values, it should partner with civil society organisations in member countries. The Secretariat's engagement with non-governmental organisations across the Commonwealth has previously been shaky and inconsistent and this must change.
For the Commonwealth to become the formidable values-based association that it hopes to be, and to tackle particular issues like Kenyan counter-terrorism strategy, it must involve civil societies in the formulation of its policies, amplify their voices and project their vision globally. To echo the Eminent Person's Report, this can be achieved by closer collaboration between the Secretariat and the Commonwealth Foundation, the body created specifically to work with civil society to bridge the two aspects of the Commonwealth, governmental and non-governmental, and to promote a coherent and cohesive approach in addressing human rights issues.
The Commonwealth needs to step up, adopt a position of leadership and double its engagement with civil society. In other words, to help make counter-terrorism reform happen it must find a way to get Kenya to listen.
Editing support for this piece provided by Kai Reddy, Senior Programme Officer, Strategic Initiatives Programme, CHRI
For more, contact the author at Uladzimir@humanrightsinitiative.org