Maldives' former President Mohamed Nasheed is free at last, but the future of Maldivian democracy is uncertain
---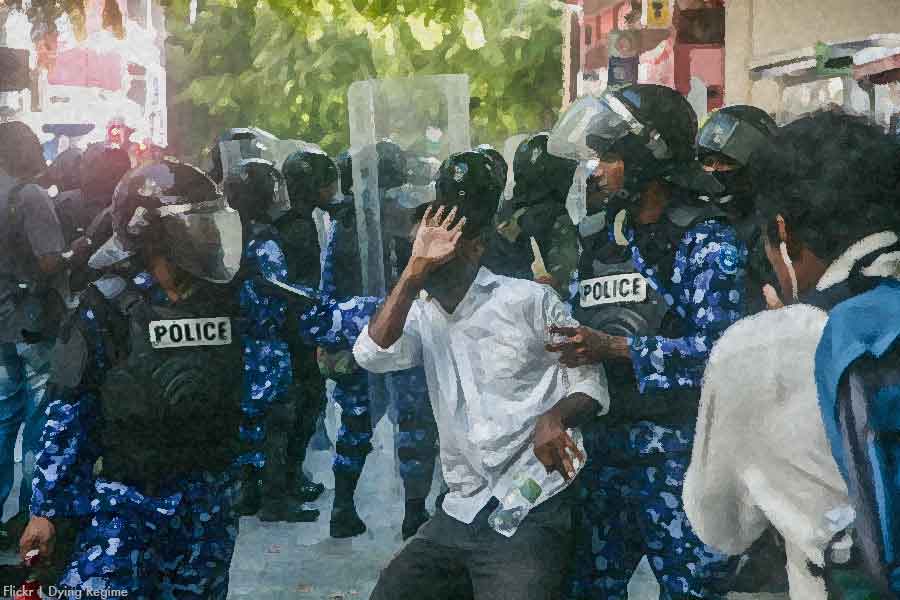 By Uladzimir Dzenisevich and Kai Reddy
Prompted by alarming reports of human rights violations1, threats to democracy and the rule of law in the Maldives, the Commonwealth Human Rights Initiative (CHRI) mounted a fact-finding mission to the Maldives in November 2015 and will soon be releasing its mission report. The mission's objective was to evaluate compliance of the Maldives with the Commonwealth's fundamental political values laid out primarily in the 2013 Charter but also the Latimer House Principles as well as international standards.
Since coming into power in November 2013, President Abdulla Yameen's government has orchestrated several arbitrary legislative and administrative measures in direct violation of the United Nations and Commonwealth standards on rule of law, democracy and human rights, and in contravention of the Maldives Constitution. As a result, fundamental rights stand considerably diluted and democratic processes further weakened, giving rise to a real threat of authoritarian rule in the island country.
Former President Mohamed Nasheed's imprisonment and release
Maldivian authoritarianism has its face – the ruling Progressive Party of the Maldives – as it has its victims. Former President Mohamed Nasheed is one of them. The United Nations Working Group on Arbitrary Detentions (UN WGAD) found that the case has no legal basis, was politically motivated and fraught with due process violations.2
"There are several factors which, taken together, strongly suggest that Mr. Nasheed's detention was politically motivated. These include: i) the history and pattern of proceedings brought against Nasheed […]; (ii) the sudden way in which charges were reinstituted against Nasheed after the original case had been inactive for 2.5 years when the government lost a key coalition partner in the Parliament; (iii) the fact that, two weeks after Nasheed was sentenced, the government adopted a law banning all prisoners from being members of political parties; and (iv) the fact that Nasheed will not be able to participate in the 2018 presidential election as a result of his conviction." – UN Working Group on Arbitrary Detentions.3
A politically motivated and an unfair trial secured Mr. Nasheed a sentence of 13 years in prison on terrorism charges. However, the injustice did not stop there. During our visit the mission heard numerous reports regarding the conditions and manner of Mr. Nasheed's detention. We were given to understand that Mr. Nasheed was suffering from chronic back pain, but was denied exercise and swimming – remedies prescribed by the prison's doctor. It was also alleged that he was refused necessary medical attention and was subject to ill-treatment (a floodlight installed outside his cell and shining directly into the room 24 hours a day). We were also informed that Mr. Nasheed and his lawyers were barred access to his medical records.
To assess the validity of these reports, CHRI's fact-finding team sought to meet Mr. Nasheed. After applying to Maldivian authorities the team was allowed to visit him in prison on the island of Maafushi. However, the permission was suddenly withdrawn just 15 minutes before the scheduled visit. No reason was given and no officials were available to explain the decision.
After five months of incarceration, in face of mounting international pressure, the Maldivian government reluctantly allowed Nasheed to leave the country for urgent medical treatment. Nevertheless, at the last minute, the government attempted to secure Nasheed's return by demanding a "guardian", who would be criminally liable should Nasheed fail to return. This deplorable stipulation was subsequently dropped. Now in London, Nasheed faces a dilemma: to go back and face sure re-imprisonment or violate the legal terms of his temporary release. Either way, Nasheed will remain a strong voice of dissent and symbol of Maldivians' struggle for democracy and human rights.
International efforts to reverse the slide into authoritarianism
Nasheed's release is largely attributed to a great deal of international advocacy and pressure. International pressure on the Maldives has steadily risen with prominent voices including the European Parliament calling for sanctions against the Maldives. Furthermore, the Commonwealth's watchdog, the Commonwealth Ministerial Action Group (CMAG) has placed the Maldives under formal consideration – the move welcomed by CHRI.
CMAG has the power to expel or suspend a member state that persistently violates Commonwealth's fundamental political values, including constitutional democracy, the rule of law and respect for human rights; and, in particular, the principle of separation of powers as enshrined in the Latimer House Principles. The Maldives been on CMAG's radar since 2012 but had not been under formal consideration suggesting the Good Offices of the UN Secretary General were being deployed to the country. Bringing the Maldives under formal consideration suggests that the good offices have been exhausted and with little recourse left the Secretary General has referred the matter to CMAG, who after more than two years has placed the state on its formal agenda.
Recently, a CMAG delegation visited the Maldives to "to reach out to Maldives in a positive way" and "develop a first-hand understanding of the situation on the ground and to consider how the Commonwealth can continue to assist in advancing Commonwealth values and principles".4 The decision to send a CMAG delegation was announced at the recent Commonwealth Heads of Government Meeting (CHOGM) in Malta (November 2015). Notably, the foreign minister of the Maldives, Dunya Maumoon was not present at the Foreign Ministers Meeting at CHOGM sending instead a deputy, Foreign Secretary Ali Naseer.
Long way to democracy
With Nasheed free, international attention should not shift elsewhere. Although Nasheed's story is in many ways emblematic of the Maldivian regime's authoritarian tendencies, the challenges the country faces are many and diverse: an increase in human rights violations committed with impunity; a shrinking space for independent voices to express themselves; the degradation of constitutionalism and rule of law; the decay of independent institutions in particular and good governance in general; judicial overreach and interventionism and increasing harassment and violence committed by both the police and radicalised elements. All these maladies plague the young Maldivian democracy.
The international community should keep the Maldives under scrutiny to reverse the country's slide into authoritarianism. Without continuous international pressure the future of Maldivian democracy remains uncertain.
For more information contact:
Uladzimir Dzenisevich - Uladzimir@humanrightsinitiative.org
Kai Reddy - Kai@humanrightsinitiative.org
---
[1] See e.g., UN Human Rights Council, "Report of the Special Rapporteur on independence of judges and lawyers, Gabriela Knaul: Mission to Maldives", 21 May 2013, available at http://bit.ly/1aLRjT1; Transparency Maldives (2014), "Democracy at the Crossroads: The Results of 2013 Democracy Survey", available at http://bit.ly/1SHYS0U; Transparency Maldives (2014), "National Integrity System Assessment. Maldives 2014", available at http://bit.ly/1VnFxA5; Amnesty International (2015), "Maldives: Assault on Civil and Political Rights", available at http://bit.ly/1OZrNHS; and ICJ and SAHR (2015), "Justice Adrift: Rule of Law and Political Crisis in the Maldives", available at http://bit.ly/1nQBSAa;
[2] UN WGAD, Opinion No. 33/2015 (The Maldives), 4 September 2015, available at http://bit.ly/1WPU9tb;
[3] UN WGAD, Opinion No. 33/2015 (The Maldives), 4 September 2015, para 97, available at http://bit.ly/1WPU9tb;
[4] The Commonwealth (2016), "Commonwealth Ministerial Action Group delegation to visit Maldives", available at http://bit.ly/1PZcvCC.