How are global prison trends reflected in Commonwealth countries?
---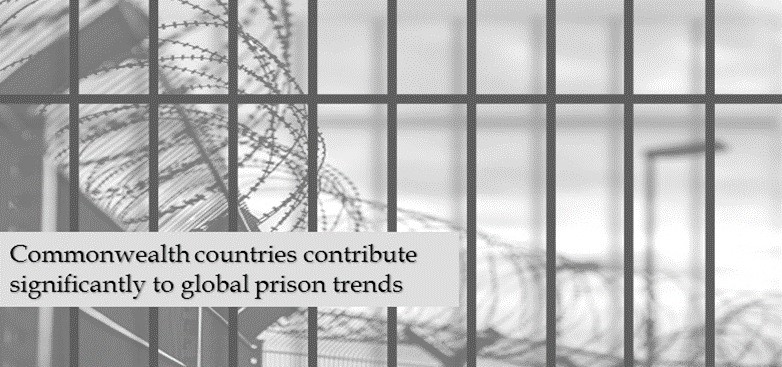 Jun 16, 2022
By: Tríona Lenihan[1]
Since 2015, Penal Reform International's annual Global Prison Trends reports have analysed and documented trends in the use of imprisonment, changes and issues faced by people in prison – especially those belonging to certain, often vulnerable segments of prison populations – and evolving challenges in prison management.
Over two years into the COVID-19 pandemic, Global Prison Trends 2022, published with the Thailand Institute of Justice, reveals a number of key trends that are central to ensuring people in criminal justice systems are not left behind in efforts to build back better from the global crisis. Commonwealth countries, spanning some of the world's biggest and smallest, richest and poorest countries, contribute significantly to global prison trends.
Perhaps most notably in the past year, despite repeated calls from international bodies to reduce prison populations – amplified since the start of the pandemic – the global prison population has reached an all-time high. There are an estimated 11.5 million people in prison worldwide and 121 countries are operating beyond their official prison capacity, including 13 countries with occupancy levels higher than 250%.
Key drivers of imprisonment and overcrowding remain largely unaddressed. Punitive drug policies persist in many countries and have led to an estimated 2.2 million people being in prison worldwide for drug offences. Overall 'tough on crime' policies have resulted in more extreme sentencing, with life and long sentences imposed for more crimes and with increased punitiveness.
Around the world, the poorest and most marginalised members of society are over-represented in prisons and criminal justice systems as a result of laws that lead to imprisonment for acts associated with poverty and survival, with little connection to public safety. These laws – often English colonial legacies, and therefore prevalent in Commonwealth countries – criminalise acts such as 'vagrancy' and loitering, with dangerous scope for abuse of police powers of arrest for such vague offences.
This damaging and wasteful overuse of imprisonment is coupled with an incredibly slow growth in the use of non-custodial alternatives globally, despite promising use and expansion during the pandemic. Even in places where alternatives to imprisonment are available at the pre and post-trial stage, in practice they remain enormously under-utilised, with detention the default response. This comes at a huge cost to individuals and society, as the overuse of imprisonment, including pre-trial detention, continues to drive up prison populations.
Globally, around 1 in every 3 people in prison are held in pre-trial detention, without having been convicted or sentenced. While the number of people in pre-trial detention worldwide has increased significantly since 2000, their proportion of all people in prison has remained fairly constant during this time, ranging between 29% and 31% of the global prison population. This sadly demonstrates little progress globally in achieving target 16.3 of the UN 2030 Sustainable Development Agenda to ensure equal access to justice for all – under which one indicator is the proportion of pre-trial detainees in prisons.
There is considerable regional variation in the use of pre-trial detention, however. Over the last two decades, the proportion of pre-trial detainees increased in Oceania from 20% to 32%, while Africa has seen the largest decrease in the share of unsentenced people in prison, from 45% in 2000 to 34% in 2019 – although, along with Asia, the region continues to have the highest share of people in pre-trial detention globally.
Over the last two years, much of the fluctuation in the number of people in pre-trial detention is undoubtedly related to the COVID-19 pandemic. Much of this has been a result of changes in the nature of offences being committed or a slowing down of the judicial system and subsequent efforts to clear court backlogs. Even now, many countries' courts are still struggling with a considerable backlog of cases. For example, in New Zealand, nearly 20,000 court appointments were postponed because of COVID-19-related restrictions, leaving some people in pre-trial detention for longer periods than they would have been detained even if they were to be found guilty and sentenced. In Nigeria, the backlog of court cases has led to a huge proportion of people being held in pre-trial detention, with 50,000 people now awaiting trial, out of a prison population of 70,000.
So, what is the solution to the overuse of imprisonment, and pre-trial detention in particular? How can we ease overcrowding and improve conditions for fewer people in prison? The way forward is in fact well-evidenced. Non-custodial alternatives to imprisonment remove the harms of imprisonment and contribute to achieving the Sustainable Development Goals. They avoid family separation and loss of employment and housing and allow people to repay any debt to society in a positive way while undergoing rehabilitation.
Instead of investing in new and improved alternatives to detention, however, Global Prison Trends 2022 has found large-scale investment in new and expanded prisons in many countries. In 2021 alone, at least 24 countries announced plans for, or started construction of, new prison facilities – in total, creating at least 437,000 more spaces worldwide.
Sri Lanka accounts for one fifth of this number, as the government announced plans to build an enormous 200-acre prison complex in Millaniya, Horana, with capacity to detain a whopping 100,000 people – three times its current prison population. Overcrowding levels in Sri Lankan prisons are currently at 190%, with 28,000-30,000 people held in facilities with official capacity for 10,000 people. But this could instead be tackled by reducing the unnecessary overuse of imprisonment. For example, in 2020, 74% of all convicted persons in the country were imprisoned for inability to pay fines, meaning they posed no threat to public safety. In such cases, far from addressing the cause of the offence, imprisonment only serves to aggravate poverty through loss of employment.
In England and Wales, where the prison population has almost doubled in the past 25 years, government projections foresee a further increase of over 20% to just under 100,000 people in prison by March 2026 (putting this down to the recruitment of an extra 23,400 police officers). In response, they plan to create 18,000 additional prison places by the mid-2020s, which includes building four new prisons, expanding four others, and completing ongoing construction of two prisons, attracting an investment of GBP £4 billion.
Governments commonly point to prison overcrowding as the main reason for investing in new prison facilities, despite evidence that building new prisons is not a long-term solution to the problem. Governments should be focussing efforts on reducing the prison population rather than building new prisons to accommodate growing numbers – many of whom do not need to be there. As Olivia Rope, Executive Director of Penal Reform International, has stated, 'With overcrowding in prisons affecting every corner of the world, it is clear that no government can build their way out of this problem… rather than expanding prison capacity, we need an expansion in the availability and use of alternative sanctions that decrease prison numbers, coupled with decriminalisation and depenalisation of certain offences.'
Global Prison Trends 2022 was published on 11 May 2022. All references can be found in the full report, available at here.
---
[1] Triona is the Advocacy and International Manager, Penal Reform International.