First Ever All-Women RTI Workshop in J&K Highlights Growing Need for Right to Information in the State
---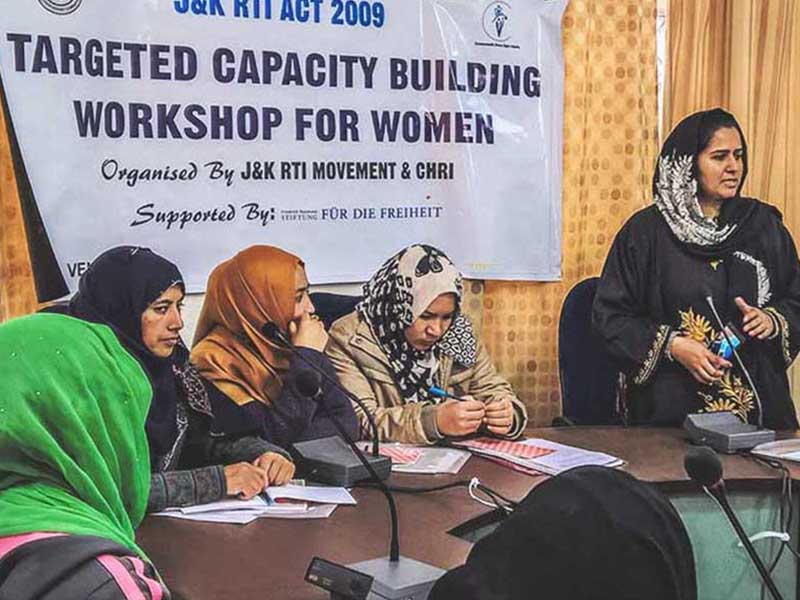 23 March, 2016
By Manisha Chachra
The first ever Right to Information (RTI) workshop for women in Jammu and Kashmir was held this week. Organized and hosted by the Commonwealth Human Rights Initiative and the J&K RTI movement, it marked a turning point in access to information activism.
The women-specific workshop was one of two RTI workshops held in J&K to mark the 12th anniversary of the first access to information legislation in the state. These workshops also come on the heels of CHRI's improved and updated 2016 user guide to J&K's RTI act.
Ms. Lubna Qadri, a 28-year-old Kashmiri women's rights activist saw women-only workshops as a critical component in J&K's RTI movement.
"These workshops are necessary, keeping in view less than 1% of women use RTI across J&K," she said. "I believe women tend to perceive RTI usage as meant for men as they have seen men filing RTI applications for either a ration card or other issues," she added.
According to Qadri, when it comes to filing a RTI application, women generally ask for help from male members of their family. "Women-specific workshops are helpful to overcome apprehensions associated with using RTI", Qadri said.
The workshop targeted some key concerns for women: transparency in the appointment of anganwadi workers; transparency in the process to acquire below poverty line identity cards; probes into the lousy implementation of employment schemes and public education programmes for women.
Since its birth in 2004 Jammu and Kashmir's right to access law has suffered hiccups. It began life toothless, as there was no independent commission to enforce the law and no one to receive and decide RTI applications. Four years later the RTI act was amended and made provisions for an Information Commission which would act as overseer. But 2008 proved a bad year for RTI in the state. The coalition government in power at the time fell apart and new elections were called. The amendments were never passed.
Fortunately, the next year saw a new government in office and the repeal of old and weak RTI laws. New, stronger access to information legislation was passed statewide and has been in effect for the past seven years. In many ways, J&K's current RTI law is sturdier than that of the central government.
CHRI's Venkatesh Nayak, where he is the RTI programme coordinator, offered an eye-opening statistic – Rs.1246 crores have been allocated to education, health, tribal welfare, student welfare and urban infrastructure in Jammu and Kashmir. The vigorous use of RTI will ensure the money is well spent and will force public officials to think twice before siphoning funds.
In the near future CHRI plans to hold another RTI workshop in Kulgam, in Jammu and Kashmir, which will be tailored to women and disadvantaged communities such as Dalits. In the past the organization has conducted training programmes for public information officers in Uttar Pradesh, offered critique and consultation on the fledgling access to information legislation in Sri Lanka and hosted visitors from non-Commonwealth countries like Vietnam to instruct them on the strengths and benefits of access to information.
The fact remains that right to information is a fundamental right irrespective of boundaries and it flows from the foundations of right to speech and expression. It must remain inalienable.
For more, contact the author at Manisha@humanrightsinitiative.org