CIC's Annual Report reveals: RTI applications to several public sector banks dwindled while rejection rates shot up in 2014-15
---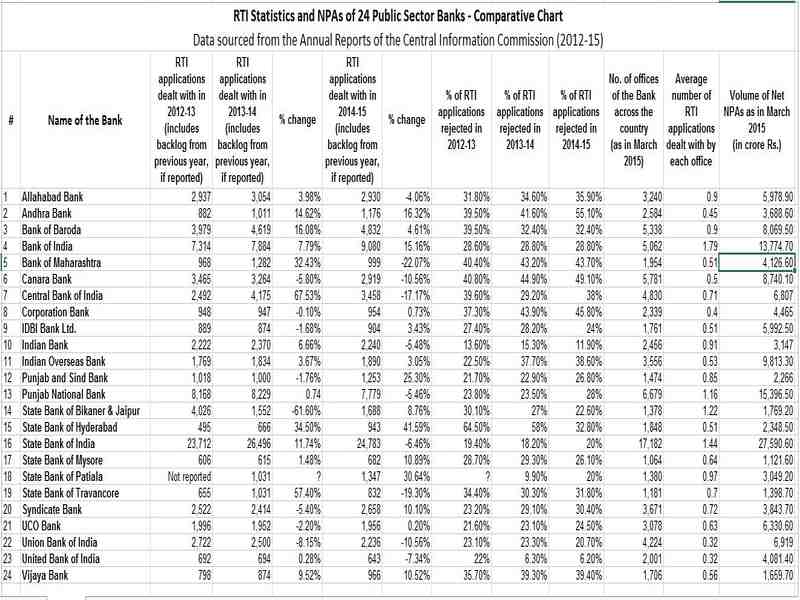 30 March, 2016
By Venkatesh Nayak
Readers may remember the recommendations of the P J Nayak Committee constituted to examine the governance of boards of commercial banks a couple of years ago.
This Committee gave its report in May 2014
. One of its findings was that coverage of the public sector banks (PS Banks) under
The Right to Information Act, 2005
(RTI Act) was hampering their ability to compete with their rivals in the private sector. No data was produced in support of this finding. Ever since, we at CHRI have examined this claim year after year in the light of the Annual Reports released by the Central Information Commission which contain RTI application statistics submitted by these PS Banks under Section 25 of the RTI Act.
The Annual Report of the CIC for the year 2014-15 is out. As we wait for the uploading of the e-version of this report on its website, our findings based on a rapid analysis of the RTI statistics of 24 PS Banks is given below. Two years ago we started examining the data for 20 banks on an annual basis. Now that data is available for multiple years for more banks we have increased the number to 24 this year. The
1st attachment
contains the main findings and the data table in MS Word format. The
2nd attachment
contains an open dataset that we have created by collating information from multiple sources in order to do this analysis. Readers may like to study the dataset and come up with more or different findings.
Please feel free to mail me your findings or your disagreement with the findings given below
.
Unless a study of the nature and scope of the RTI applications dealt with by these PS Banks is undertaken it is not possible to state authoritatively as to whether the high proportion of rejection was due to information being sought about NPAs from these Banks.
Such a study is the urgent need of the hour
. Moreover, the Hon'ble Supreme Court of India had directed the Reserve Bank of India to disclose information about NPAs to RTI applicants in the matter of
Reserve Bankof India vs Jayantilal N Mistry
and related cases [Transferred Cases (Civil) Nos. 91-101, judgement dated
16/12/2016
]. Whether Banks have become more transparent about NPAs in compliance with this direction, remains to be examined. The RTI statistics for the coming years may throw some light on this issue.
Please circulate this email widely. Friends in the mass media may kindly note, this email alert is not being shared exclusively with anybody. Please feel free to make use of this material in your news stories and write-ups as you deem appropriate. This email alert is being sent early in the day to enable you to study the findings and the data at leisure.
In order to access our previous email alerts on RTI and related issues please click on: http://sartian.org (Latest News) . If you do not wish to receive these email alerts please send an email to this address indicating your refusal.