CIC issues advisory to the Health Ministry to publish a comprehensive list of designated COVID healthcare facilities across India- RTI Impact
---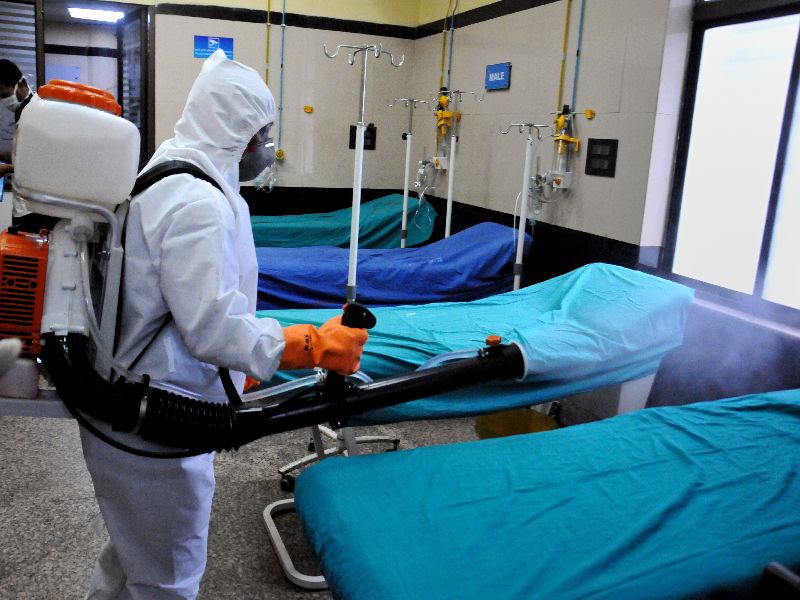 Image courtesy: PTI Photo accessed at- https://www.deccanherald.com/
June 07, 2020
By: Venkatesh Nayak
Even as I draft this despatch, States and Union Territories (UTs) which are reporting very high numbers of COVID-19 infections are allegedly running out of beds for infected people who need urgent medical attention. The media is reporting case after case of ailing individuals breathing their last waiting for admission to a designated COVID treatment hospital. The family of the deceased allege, the hospitals refuse admission, whereas the hospitals counter them claiming, the patient was found dead on arrival or that they did not admit the patient because the infection was not detected by their own testing centre. There are media reports of COVID designated hospitals refusing treatment for non-COVID ailments resulting in the death of the patient. Similarly, there are other reports of deaths caused by the novel Corona virus because the patient was taken to a hospital that was not officially designated as a COVID treatment centre. Amidst all of this confusion, India was recently elected to head the Executive Board of the World Health Organisation.
Is accurate and updated information about every COVID hospital and treatment centre designated across the country accessible to everybody in the public domain at the click of a button? Unfortunately, the answer is a deafening "NO".
In one of its orders released Friday (05 June, 2020) , the Central Information Commission (CIC) has issued an advisory to the Union Ministry of Health and Family Welfare (MoHFW) to fill this information gap in the battle to combat COVID-19 by proactively compiling and publishing a list of all COVID treatment facilities designated across the country. Click here to read the CIC's order.
Background
During the Lockdown 1.0 announced by the government in March 2020, I did not file any RTI application. I took this decision because I did not want to impose an additional burden on an already embattled administration. However, when the country entered into Lockdown 2.0, it became apparent that governments were sliding back to the age of sharing information on a "need to know" basis which characterised independent India's governance until 12th October 2005 when The Right to Information Act (RTI Act) came into force.
After learning from media reports and friends that COVID infected people were having difficulties finding the locations of the designated COVID hospitals, I rummaged through MOHFW's website and its newly set up COVID resource page for a consolidated list of such hospitals. There was none that I could find.
The RTI Intervention
Perturbed by this absence of information about designated COVID hospitals and treatment centres on the webpage of MoHFW, I filed my first RTI application during Lockdown 2.0. On 17th April, 2020, I submitted a formal request through the RTI Online Facility asking MoHFW for the following information:
"1) The district-wise number of hospitals and healthcare facilities called by any other name, designated as COVID-19 treatment centres as on date;
2) The postal addresses and telephone numbers of the hospitals and healthcare facilities referred to above;
3) The criteria applied for determining whether or not a hospital or a healthcare facility should be designated as a COVID- 19 treatment centre;
4) The district-wise names of hospitals and health care facilities whose designation as COVID-19 treatment centres has been withdrawn as on date; and
5) The reasons for withdrawing the designation of every hospital and health care facility referred to at para no. 4 above."
As all the information described above directly concerns the life and liberty of individuals across the country, I requested MoHFW to publicise the information within 48 hours of receipt of this request by uploading the same on their official website under Section 4(1) of the RTI Act with intimation of the relevant URL(s) to me by email. Click here to read the RTI application.
MoHFW, DGHS and ICMR play football with the RTI application
I waited in vain for a week for MoHFW's reply. Instead of sending a substantial reply, MoHFW's Central Public Information Officer (CPIO) transferred the RTI application to the Directorate General of Health Services (DGHS) and the Indian Council for Medical Research (ICMR). Neither public authority sent me any reply subsequently. Meanwhile the COVID-19 infection rate was rising steadily.
So I decided against wasting time by sending an appeal to MoHFW and sent a complaint to the CIC, instead, praying for an urgent hearing and direction to MoHFW to disclose all the information described in my RTI application. As I had sought access to information under the urgent request clause under Section 7(1) of the RTI Act, I also prayed for an out-of-turn hearing. Copies of this complaint were emailed to the CPIOs and nodal officers whose email addresses were posted on the RTI Online Status page so that they would not complain about being kept in the dark about this escalation of my case to the CIC. Click here to read the complaint.
Six days later, DGHS transferred the RTI application back to the Hospital Section of MoHFW. A week later the CPIO of the Hospital Section transferred the RTI application to the PIOs of Safdarjung and Ram Manohar Lohia hospitals and Lady Hardinge Medical College (LHMC) and Associated Hospital in Delhi. Another week later the PIO of LHMC sent the first reply to my RTI application directing me to look up MoHFW's website for the list of central institutions designated as COVID hospitals! He also stated that other information specified in the RTI application was not available with him. Click here to read the CPIOs' replies.
Additional submissions made to the CIC
On 20th May, 2020, I sent an additional submission to the CIC updating them about the developments in my case along with the replies received from the public authorities named immediately above. I put forth the following points:
1) that my RTI application was being transferred from one public authority to another without providing substantial information;
2) that there were at least two press releases on the website of the Press Information Bureau uploaded on different dates which contained aggregate figures for designated COVID hospitals across the country. The first was an article written by the Union Minister for Information and Broadcasting and Environment and Forests on 05/05/2020 where he mentioned the existence of at least 700 dedicated COVID hospitals and treatment centres. Next, I cited the record of the gist of the conversation of the Union Minister for Health and Family Welfare with representatives of the Government of Punjab- also uploaded on the PIB website on 13/05/2020 where the numbers of such facilities had grown considerably. The Minister is reported to have said, "as of now 900 dedicated COVID hospitals with 1,79,882 beds (Isolation beds- 1,60,610 and ICU beds- 19,272) and 2,040 dedicated COVID Health Centres with 1,29,689 beds (Isolation beds- 1,19,340 and ICU beds- 10,349) along with 8,708 quarantine centres and 5,577 COVID Care Centres with 4,93,101 beds are now available to combat COVID-19 in the country." So I argued that neither Minister could have mentioned these aggregate figures unless there was a list of such hospitals and treatment centres available with the Respondent Public Authorities, particularly, the MoHF;
3) that ICMR has displayed a list of country-wide COVID testing centres - all plotted on a Google Map complete with their postal addresses. So there is no reason why ICMR or DGHS or MoHFW ought not to be able to compile and publicly display a complete list of designated COVID hospitals and treatment centres; and
4) I also shared news reports of people who died due to COVID infection or other ailments while searching for the appropriate hospital to get treated. These stories are cited above in the introductory paragraph of this despatch. Click here to read my additional submission.
CIC's Advisory to MoHFW
The CIC conducted the hearing on 1st June, 2020 through a whatsapp call. Five CPIOs representing all the Respondent Public Authorities including the hospitals to which my RTI application was transferred were also present. All of them denied that their units had a comprehensive list of hospitals and treatment centres designated for the purpose of treating COVID-19 infected patients. They pleaded ignorance about the source of information that the two Union Ministers mentioned in their write-up and meetings. Expressing its displeasure at this state of affairs, the CIC advised MoHFW as follows:
"...the Commission advises the Secretary, M/o H&FW to designate an officer of an appropriate seniority as a Nodal Officer to examine the matter and suo motu disclose the information sought in the RTI application on the website of the Public Authority within a period of 15 days from the date of receipt of this order in the larger public interest."
In support of its advisory the CIC reasoned as follows:
"Having heard all the parties and on perusal of the available records, the Commission at the outset was appalled to learn that basic information pertaining to the District Wise Designated COVID treatment centres could not be provided to the information seeker by any of the Respondents. As per the provisions of the RTI Act, 2005, the CPIO acts as the pivot for enforcing the implementation of the RTI Act, 2005 and it is their responsibility to facilitate flow of information instead of simply shifting the onus of disclosing the same to other Public Authority/ officials. In the present instance none of the Respondent disclosed the information or made an effort to assist the information seeker in obtaining the information on a very sensitive matter which certainly pertains to the interest of the public at large...
The Commission further observed that the RTI Act, 2005 stipulates time limits in its various provisions relating to responding to RTI Applications, transfer of applications, filing and disposing of first appeal to ensure that a culture of information dissemination is strengthened so that a robust functioning of the democracy gets established...
The Commission further observed that the information sought ought to have been suo motu disclosed on the website of the Public Authority at the outset so as to obviate the necessity for an information seeker to obtain the same through an RTI application. In this context, the Commission observed that a voluntary disclosure of all information that ought to be displayed in the public domain should be the rule and members of public who having to seek information should be an exception. An open government, which is the cherished objective of the RTI Act, can be realised only if all public offices comply with proactive disclosure norms. Section 4(2) of the RTI Act mandates every public authority to provide as much information suo-motu to the public at regular intervals through various means of communications, including the Internet, so that the public need not resort to the use of RTI Act...
It was observed by the Commission that important decisions are being made by the Governments involving huge interventions in the healthcare and daily lives of billions of people as they seek to secure social, economic and cultural wellbeing of its population and uphold the rule of law. It is essential that the decisions themselves and the senior decision makers involved are thoroughly documented in order for the Governments to remain accountable both during and after the crisis for future generations to be able to learn from these actions...
It is well recognized that the impact of COVID-19 pandemic will be far reaching and that all the stakeholders need to be cognizant of the importance of proper data and record management. Such records could also be useful for research and educational institutions involved in tracing the disease, mapping and analyzing the pathogens genome to develop vaccines that requires records and data accuracy. Sound records management is more important than ever before with Governments initiating unprecedented steps to deal with the COVID-19 pandemic.
Keeping in view the facts of the case and the submissions made by all the stakeholders and in the light of the decisions cited above as also the observations made in the previous paragraphs, the Commission observed that very pertinent information pertaining to the COVID-19 pandemic situation was sought by the Complainant which could not be made available by any of the Respondent. The fact that the application shuttled from one Division of the Public Authority to
another indicates that there is a very urgent requirement for notifying a Nodal Authority in the M/o H&FW/ DGHS to compile, collate and consolidate the information sought in the RTI application and suo motu upload the same on the website of the Public Authority. There is an immense necessity to evolve a strong, robust and effective documentation mechanism and its continuous updation which will be mutually beneficial not only for the Government but also for
the Scientists, Researchers, Academicians, Historians, Law Makers, etc for future."
To what extent the MoHFW will comply with this advisory will be closely watched in the coming weeks.
Random survey of COVID-related websites of States and UTs
Meanwhile, after receiving the CIC's decision, I randomly surveyed COVID-related websites and webpages of 21 State Governments and the administration of two UTs (23 out of 36 jurisdictions) across India's geographical regions to locate COVID hospital-related information. My preliminary findings are given below:
Northern India
The Government of the National Capital of Delhi's (GNCTD) web portal leads to a list - "dashboard style." Very useful information about hospital-wise availability of beds is updated here every day. But having lived in Delhi for more than three decades, even I could not quite figure out which hospitals were being referred to by abbreviations such as- "SGRH City", "DCBH" or "HAHC" included in this list without Googling them. This list does not mention their addresses or telephone numbers. Next I looked up the website of the Health Department of Punjab. The district-wise lists of all three categories of hospitals and designated COVID care centres are available in the form of spreadsheets. Compiled information is indeed accessible at the click of a button, but without complete postal addresses or telephone numbers. The website of Uttar Pradesh's Health Department also lists district-wise designated facilities but without providing contact details or status updates. Uttarakhand's Medical Health and Family Welfare Department only provides district-wise availability of medical facilities without naming the designated COVID hospitals or treatment centres in all three categories. Contact numbers (mobile and landline) of the Chief Medical Officers in every district are accessible at a separate link.
The Government Portal of Jammu and Kashmir displays only some Government Orders and circulars relating to COVID-19. The Directorate of Health Services, Jammu displays nodal and district-wise HelpLine numbers. The Directorate of Health Services, Kashmir displays some COVID-19 related circulars and orders. However, I could not find a list of designated COVID-19 hospitals and treatment centres on these websites.
Western India
Rajasthan's Health Department website provides district-wise information and available facilities but without daily updates or postal addresses and telephone numbers. Gujarat's Health department website displays a list of designated COVID hospitals and treatment centres in the private sector along with details of facilities available. Although postal addresses are not available, this list contains the names, mobile and landline telephone numbers and email addresses of doctors who can be contacted directly. Status updates are not available though. Another list displayed on this website provides the names of government-run hospitals in each district along with the names and phone numbers of the respective Hospital Superintendents. Postal addresses, facilities available and status updates are not available. Maharashtra Government lists district-wise information about hospitals and available facilities but without postal addresses and telephone numbers or status updates.
Central India
Chhattisgarh Government's Health Department website displays names of the designated COVID hospitals with details of available facilities but no contact details or status updates are provided. I could not find even basic lists of COVID designated hospitals on the website of the Health Department of Madhya Pradesh (MP) MP's State COVID Portal only has five telephone numbers under what is labelled District-wise list and three contact numbers under State-List without mentioning the names of any officer, except that of the nodal officer of Betul district.
Eastern India
Bihar's dedicated COVID webpage only has district-wise helpline numbers. I could not find a list of COVID hospitals on this page or on the website of the Health Department or that of the Bihar Health Society. Only district control room numbers are displayed prominently on these websites requesting people to stay home to obtain health services. Jharkhand's Health Department website contains no COVID-19 related links. The State Government Portal displays only slides relating to the mobile applications being used to tackle the epidemic and the return of migrant workers. A COVID Helpline Number is also displayed without other details. Websites of the districts administration have a COVID-19 link on the main menu of the home page. However, I could not find lists of designated COVID hospitals on the Ranchi, Dhanbad, Hazaribagh, West Singbhum and Bokaro district websites which I checked randomly. Palamu district website did not have even the COVID-19 link like the remaining 23 districts.
Odisha Government's dedicated COVID-19 webpage displays a list of designated COVID hospitals and health centres with details of available facilities as of 5th May, 2020. Postal addresses and contact numbers are not available. West Bengal Government's portal displays a circular containing the list of three hospitals identified in Kolkata on 3rd April, 2020 for COVID treatment. Its Health Department website displays a district-wise list of designated COVID hospitals and treatment centres along with facilities available. Postal addresses, contact numbers and status updates are not available though.
Northeastern India
Next I looked up Assam's Health Department. The website of their National Health Mission programme has district-wise lists of COVID dedicated hospitals and treatment centres. However, contact details, details of available facilities and status updates are missing. Tripura State Government Portal only displays nodal and district-wise Help Line numbers.While statistics about number of infected, cured and surveilled persons are updated on a daily basis, information about designated COVID hospitals and treatment centres is not available on this website. Nagaland's Health Department website lists the district-wise hospitals for both COVID and non-COVID ailments in two separate documents which are accessible deep inside its dedicated COVID webpage. However, their postal addresses, contact numbers and facilities are not displayed at these links.
Southern India
Next I looked up the dedicated COVID webpage of the Health Department of my home State of Karnataka. District-wise details of designated hospitals and various categories of treatment centres have been displayed along with postal addresses and contact numbers and number of beds, but without status updates. Kerala which is portrayed as the role model in tackling COVID infection has a lot of information on the website of its Directorate of Health Services in both English and Malayalam. I could not find a list of designated hospitals and treatment centres under the links described in English. Perhaps the links described in Malayalam might have this information. Telangana's Government has put up a list of government and private hospitals with isolation wards on its dedicated COVID-19 webpage. Clicking on the name of each hospital takes the information seeker to its location on the Google Map which contains the postal address as well. However information about facilities and status updates are not available. Tamil Nadu's dedicated COVID-19 webpage provides district-wise lists of all three categories of designated COVID hospitals and treatment centres. Contact numbers, facilities and status updates are available for private hospitals in Chennai only. Although a Dashboard format has been created it is not yet populated with data for other districts. I could not find similar information about government hospitals, though.
End Note
Much like with my RTI intervention regarding data collected about migrant workers stranded across the country, I did not ask for copies of official records. One person accessing such information is of little use to others. Instead I sought proactive disclosure of information in this case also, so that every interested person may access it sitting at home or in office. During lockdowns proactive information disclosure works to everybody's best interests. However, given the fact that RTI is a deemed fundamental right it is important for all States and UTs to ensure access to information in a uniform manner. Some States like Karnataka and Gujarat are much more advanced than others as they proactively disclose even mobile phone numbers of the designated COVID healthcare facilities. Telangana has used Google Mapping effectively to help people find their way to such facilities with the help of their smartphones. Other surveyed States and UTs are parsimonious with the quantity and quality of information they display on their websites. MP performs much worse than most other States surveyed here, as does J&K. There is an urgent need to develop templates for information disclosure for use across the country so that comprehensive information is made available to people in a uniform manner. I hope MoHFW's compliance with the CIC's latest directive will be a step in that direction.
CHRI's Trail of Inquiry: CIC-COVIDhospitals-decision-Jun20 | MoHFW-COVIDhospitals-RTIappln-Apr20 | CIC-COVIDhospitals-Complnt-Apr20 | CPIOdocs-Apr20 | CIC-AddlSubmsn-May20
Media Coverage: Economic Times | Deccan Herald | AISA - All India Students' Association (FaceBook) | The Leaflet | The wire | News 18 | Outlook India | The Week | Devdiscourse |Sabrang India | Times Now News | RTI Foundation of India