CHRI Hosts Sri Lankan Delegation: India's RTI is fodder for impassioned discussion.
---
The Commonwealth Human Rights Initiative (CHRI) hosted the Right to Information Learning Programme in India from May 23-May 29. The 12th of such annual learning programs organised by CHRI, this year's event in Delhi was for civil society and media representatives from Sri Lanka.
Over the course of a working week the Sri Lankan delegation participated in meetings with RTI practitioners. They met with senior officers in the Government of India and representatives of public authorities such as the Power Grid Corporation of India Ltd. who are effectively implementing the RTI Act. They also conferred with members of the Central Information Commission, RTI activists and journalists.
Day 1: Maja Daruwala, the Director of CHRI greeted the delegation and briefed them on the organisation's work and gave an overview of the learning programme. Venkatesh Nayak, who leads the Right to Information Programme, spoke about its significance for the realisation of human rights. Wajahat Habibullah, former Chief Information Commissioner of India, informed the group on the salient features of the Indian RTI Act, 2005, and his experience of implementing it within Indian bureaucracy. Participants also discussed Sri Lanka's RTI Bill, pitting it against its Indian counterpart and identifying legislative challenges.
Day 2: Professor Shekhar Singh of the RTI Assesment and Advocacy Group spoke about the now legendary RTI campaign in India and how civil society has monitored the law and protected it from erosive amendments. A session on proactive disclosure of information as per law and for public interest followed. The delegation later visited the Ministry of Personnel, Public Grievances and Pensions, where Joint Secretary (Department of Personnel and Training) Devesh Chaturvedi held an interactive session about challenges the government has faced in implementing the RTI Act.
Day 3: Anjali Bhardwaj and Amrita Johri from Satark Nagrik Sangathan discussed their experience of empowering disadvantaged communities by teaching them to hold locally elected representatives accountable through RTI. Devyani Srivastava and Shikha Chhibbar of CHRI's Police Reform team spoke about effective use of RTI in data-based research. To see the supply side of things, the participants visited Power Grid Corporation of India Limited and spoke with its Public Information Officer and Appellate Authority on exemplary ways of RTI adoption in public offices.
Day 4: The delegation made a visit to the Chief Information Commission, where they interacted with Chief Information Commissioner Radha Krishna Mathur, and then observed RTI appeal hearings before the CIC. Dr Mandira Kala, PRS Legislative Research, took a session on how the RTI law is shifting the dynamics of transparency and accountability in Parliament. Particpants then met with regional director Dr Ronald Meinardus and senior staff at Friedrich Naumann Stiftung für die Freiheit.
Day 5: RTI activist Dev Ashish Bhattacharya spoke with the delegation members about using RTI to ensure accountability of the political elite in a growing democracy. Nidhi Sharma from The Economic Times held a session on the role of RTI in investigative journalism. Manju Menon of Namati spoke about use of RTI in environmental research and advocacy. Participants also interacted with Kanika Kaul and Saumya Shrivastava from the Centre for Budget and Governance Accountability regarding transparency in public spending and government budgets.
The programme ended with a talk moderated by Ms Daruwala on the week's key lessons and the participants' future plan of action.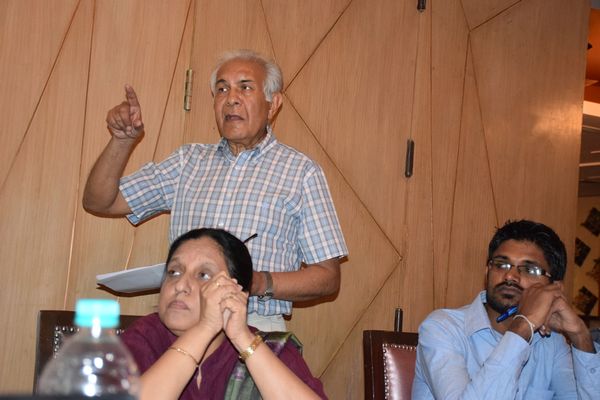 Mr Wajahat Habibullah identifies strengths and weaknesses of the Indian RTI Act, 2005; Nimalka Fernando (centre) and A Jayasooriyan look on
All photos by Kuwar Singh