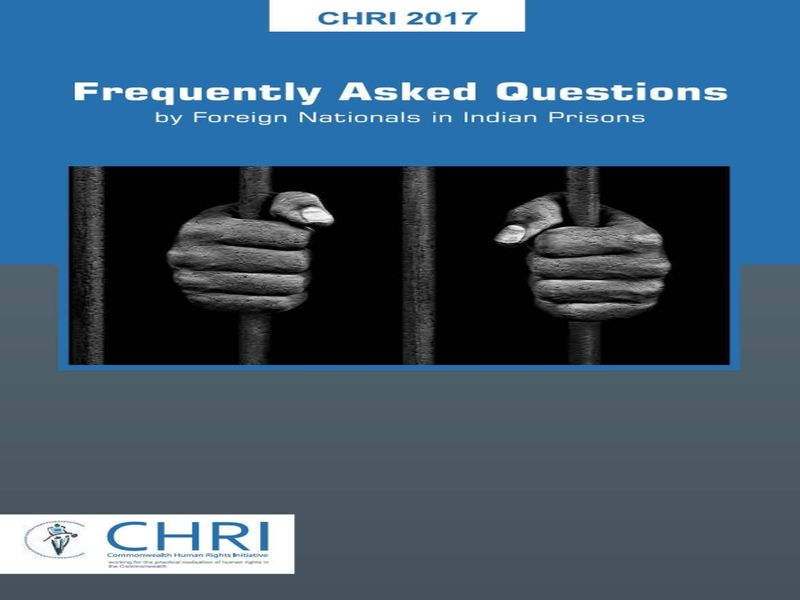 March 09, 2018
By Madhurima Dhanuka
For two years I received messages from Angeline every day. Some would be good morning messages, some would be about her family, sometimes pictures of her grandson. Sometimes I would receive calls with her crying at one end, wondering if her son would ever come home. I have never met Angeline. The human connect with this South African woman began in January 2016, when I called to inform about the detention of her son in a prison in Kolkata. He was in prison for three years, and for all that time, his mother had no clue about her son. Had it not been for the Commonwealth Human Rights Initiative she would never have known. She died on 6 January 2018 longing to meet him once.
This is not a lone case. There are many Angelines. For example, Yazid who spoke with his family in Palestine after 28 years after we persuaded the embassy to locate his relatives; similarly Amy searched for her mother frantically for 4 months in Bolivia, before I called to say that she was in a prison in Kolkata.
All this happens despite the law clearly spelling out duties of the police officers which includes informing concerned embassies about the arrest of their nationals. It is the duty of the embassy to immediately seek consular access through appropriate authorities. In most cases we have found either that the police officers did not inform the embassies or the embassies were non-responsive. There were also instances where embassies, even when informed, took no steps to contact the family.
Foreign prisoners are often discriminated against and considered 'strangers' by other prisoners as well as prison staff. Language barriers and/or inadequate understanding of the legal system are primary causes for this disconnect. Absence of or delayed consular access; severance of familial ties because of restrictions on making international phone calls/sending letters; or lack of effective legal representation. A number of factors place foreign national prisoners in the condition of unwarranted hardships and rights violations'.
Various studies have established that a prisoners' contact with family members is indispensable. This is even more important in the context of foreign national prisoners. When contact with a family is lost, the process of nationality verification and subsequent repatriation becomes prolonged. As a result a prisoner remains in illegal detention for long periods. For these reasons, foreign nationals are categorised as prisoners with special needs in the UN Handbook on Prisoners with Special Needs.
However, in India, as noted earlier, foreign nationals have no means to contact their families apart from relying on their embassies, which may or may not be responsive. Many state governments permit prisoners to write letters, the latter must bear the cost themselves. Sending letters abroad can be expensive; can take months to reach family members. They are at risk of getting lost. Some states also permit telephone calls; again the prisoner or the family must bear the cost.
With the advent of technology in prison management and increased emphasis on the use of video conferencing for production before courts, it is time that the government extended these facilities to foreign national prisoners. Contact with a family is not merely a privilege but the right of every prisoner.
There are multiple ways of using internet-based solutions to ensure this. For instance, foreign nationals may be permitted to send emails to any pre-decided and pre-verified email addresses and be allowed skype calls atleast twice a month. Additionally, they should be permitted to receive emails and calls from family members at regular intervals.
Communication with the outside world as a means of reducing the debilitating effects of institutionalisation is perhaps the most important rehabilitative strategy in the prison context. Denying foreign prisoners this right is unjust. Existing prison manuals, as well as the Model Prison Manual 2016, need to be revised and to accord these special measures.
For more information on foreign national prisoners in India, read CHRI's Frequently Asked Questions by Foreign Nationals in Indian Prisons.
Please note: Names of prisoners have been changed for reasons of privacy.