A Review of India's Voluntary National Review on the Sustainable Development Goals
---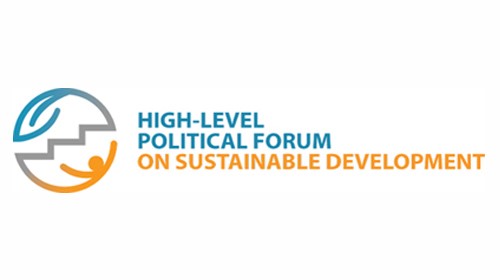 July 21, 2017
By Gavin Davies
On July 19th, 2017, India presented their progress on the Sustainable Development Goals. They began their presentation with a video (starting at minute 56) showing how there are so many areas that India has progressed in, and highlighted certain government programmes. Below is a comparison of the claims of the video with the facts on the ground:
"There is inclusive growth for all"
Even though India has one of the highest economic growth rates in the world, it is fundamentally unequal. A study by Oxfam found that "India's richest one per cent now hold a huge 58 per cent of the country's total wealth -- higher than the global figure of about 50 per cent". This is approximately the 12th most in the world, in terms of domestic inequality.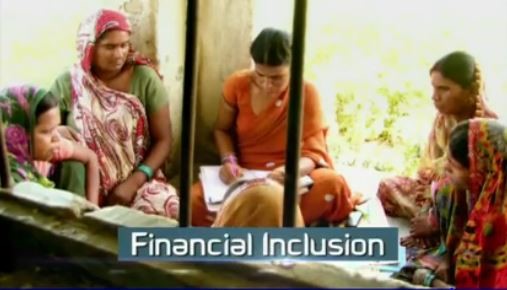 "Self-help groups brought thousands of women into the banking system, under Prime Minister Narendra Modi, millions more now have bank accounts"
Although there has been an increase in bank accounts, for many of those who have opened them, they are rarely, if ever, used. There was a 1.8% reduction in "zero balance" accounts during demonetization to approximately 23 percent by the end of 2016, but this could also be partially attributed to the practice of bank employees using funds to deposit a few rupees into an account so they do not show a zero balance.
Most of the people who have been pushed to get bank accounts do not have much money to deposit, and still rely heavily on cash for almost all transactions. They also have trouble accessing their banks, since they are only open during the day from 10 am – 4:30 pm, closed on Sundays, and alternate Saturdays. India also has the lowest penetration of banks/ATMs per 100,000 population of any BRICS nation (18 per 100,000), compared to China's 55, South Africa's 66, Brazil's 129, and Russia's 184 per 100,000. It will take much more time and effort before the infrastructure and need for banking is matched by the Centre government's ambition.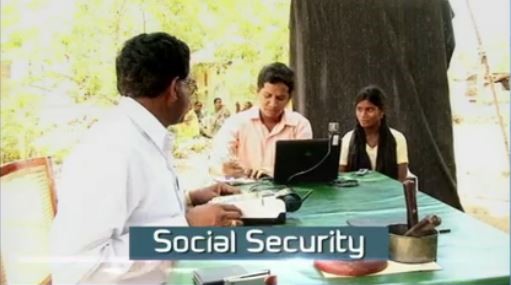 These people with accounts "now have access to social security, jobs guarantees, and insurance."
There are several employment schemes, such as Pandit Deen Dayal Upadhyaya Gramin Kaushalya Vikas Yojna, and the Prime Minister's Employment Generation scheme. However, in the past two years and a half years of Modi's government, they have only created 110,000 jobs. According to the Financial Times, "India needs to generate about 1m jobs a month to meet the needs of its young people". Though this would be a lot for any other country, this is not enough to keep up with India's demographic boom. The goal put forward by the Minister for Labour and Employment was 50 million jobs by 2020.
These insufficient numbers come from a reliance on agricultural and service sector employment, and the lack of manufacturing jobs available. Although there are pockets of rapid progress, such as IT jobs in Bangalore, these are isolated incidents that are not available to most Indians.
"193,000 villages and 531 cities are open defecation free (ODF)"
Many of the villages that are determined ODF often still lack access to or enough toilets, and the local officials in charge of dispersing the funds take the money for toilets instead. This is due to the lack of capacity, management, and oversight at all levels of government. The Centre for Policy Research reported that 29 percent of the households that were recorded by the government as having toilets in reality did not, and 37 percent of those recorded as having toilets had facilities that were unusable.
There is also a culture of abhorrence of toilets that require being emptied by hand, as it has caste based implications of spiritual purity. Because of this, people keep defecating openly when there are basic toilets available; over half of the people who have access to government or privately owned toilets do not use them regularly.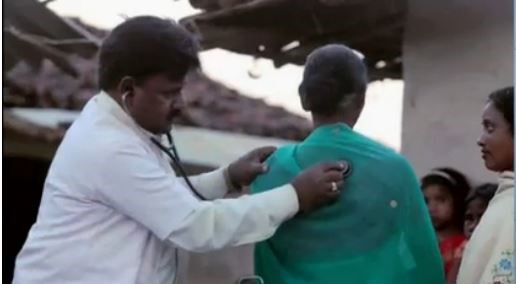 "A tiered medical system gives quality medical serviced from the grass roots up"
There has been an increasing pressure on the medical system, with 450 million more people being born in the last 25 years to 2016. This period has resulted in a dual disease burden of "a continuing rise in communicable diseases and a spurt in non-communicable or "lifestyle" diseases, which accounted for half of all deaths in 2015, up from 42 percent in 2001-03." Hospitals are hard to reach for most of those growing populations; 72 percent of Indians live in rural areas, yet they only have access to one-third of the hospital beds.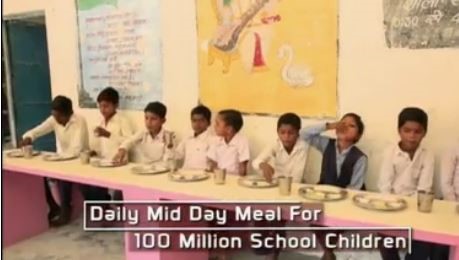 "The Public Distribution System (PDS) guarantees food security for 800 million Indians"
Although the PDS has expanded rapidly, there are still significant issues with implementation and satisfaction. There are three levels of PDS welfare payments: severe poverty (AAP), below poverty line (BPL), and above poverty line (APL). The last two are subject to the most corruption, and a case study in rural Orissa showed that "almost half of all BPL households and over 80 percent of APL households had to spend extra money to cover their nutritional basic needs", which threatens their food security.
Corruption is also a problem, in both stealing some of the food that is being transported for the PDS, and skimming food or asking for bribes at the Fair Price Shops (FPS) that facilitate the PDS. Such shops are used by approximately 74 percent of Indians, who were subject to bribery 12 percent of the time. The frequency of use of the PDS results in a significant drain to those on welfare. However, "corruption in the PDS happens largely under the APL quota…of every extra ton allocated to APL households, 503 kilos are diverted…the cross sectional analysis by Drèze and Khera (2015), estimate that, on average across India's major states in 2011-2012 67% of the APL allocations are diverted".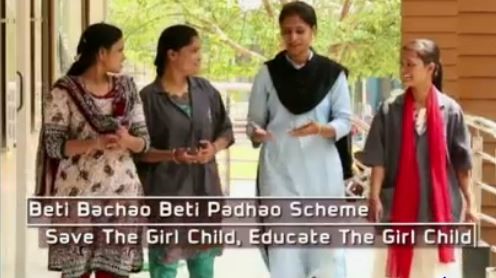 "The importance of women in Indian society is reflected in the way government programs prioritize their values. With housing loans, ration cards, gender equality is essential to the vision of India's future".
While the Indian economy continues to grow, "there has been a large decline in female labour force participation from 34% to 27%. The male-female wage gap has been stagnant at 50% (a recent survey finds a 27% gender pay gap in white-collar jobs)." This lack of employment engagement reduces opportunities for equality, and is concurrent with violence and intimidation of women "showing an upward trend, in particular brutal crimes such as rapes, dowry deaths, and honour killings." So even though there are quotas for women's participation, and they have improved representation in village-level governance, there is still a significant lack of fiscal and social independence.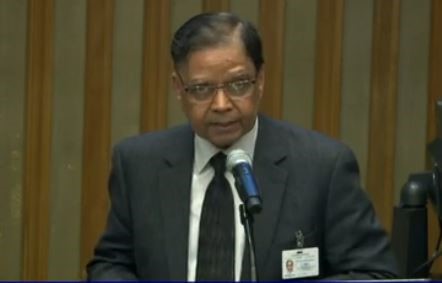 Government Priorities
This government presentation was put together in conjunction with NITI Aayog (a government body think tank), as they are also the coordinating body for the SDGs. Their vice-chairman pictured above, Arvind Panagariya, was giving the presentation (the chairman is the Prime Minister).
Mr. Panagariya went on to present on the seven SDGs that were the focus of the 2017 High Level Political Forum (HLPF). He began by stating that even before the SDGs were in place, India's ministries were pursuing these goals, and is why they fought so hard for them to be implemented in the negotiation process. They feel this is the best approach since people will feel more included in domestically made programs. However, they were advised by the Office of the Chief Statistician, T.C. Anan to not follow subjective indicators attained from surveys.
He then proceeded to outline how the ongoing state run programmes are in line with each SDG goal, and how they worked with state government and village leaders to implement the goals, and received civil society input.
He stated that the government sees SDG 1 on the most important goal, which needs continued economic growth to be achieved. The key programmes were: PM Jan Dhan Yojana (world's largest financial inclusion programme), National Rural Drinking Water Programme, Swaachh Bharat Mission (Clean India Mission), Housing for All by 2020, and PM's rural roads programme.
SDG 2 on ending hunger, improving nutrition programmes: doubling farmers income by 2022, Integrated Child Development Services, Public Distribution System, and the mid-day meal programme.
SDG 3 on health and wellbeing programmes: National Health Mission, National Vector Borne Disease Programme, and National Programme for Prevention of Non-communicable Diseases.
SDG 5 on gender equality ("the most important SDG as well, in addition to the eradication of poverty"): Save the Girl Child, Educate the Girl Child, Maternity Benefit Programme, Women Transforming India, and Stand Up India.
SDG 9 on Infrastructure and Innovation: Rural Electrification scheme (reached 99% of Indian homes already), Make in India, (building roads and infrastructure, FDI), Attal Innovation Mission.
SDG 14 on life under the water: Mangroves for the Future, National Oil Spill Contingency Plan 2015, National Policy on Marine Fisheries 2017, and Sagarmala (port-led development).
SDG 17 on global partnership for sustainable development: Direct tax reform, GST, public private partnerships, south-south cooperation, Aadhar, direct benefits transfer, and having 2% of company profits being spent on social programmes.
He concluded by stating that developed countries have to help developing ones to reach these goals, especially in the area of curbing illicit financial flows.
It was then time for questions, with only time for three countries to question India.
Guatemala asks: "regarding SDG 7 and 13, we take it that India has subsidies for fossil fuels, we'd like to ask what specific steps you are considering in order to eliminate these gradually, and considering these SDGs and climate change adaptation."
India: There are no subsidies left on petrol or diesel or coal, but we have a major programme for renewable energy 175 gigawatt of renewable energy by 2020.
Ethiopia asks: "as a federal state, what is the engagement of sub-national states with the Centre?"
India: Sub-national governments are keenly involved, and states are competing with each other in a healthy way. There have also been 16 national and 3 regional level consultations. Panchayats have also been included.
Belarus asks: "what are your approaches to get the statistical indictors together to monitor if you are implementing the SDGs?"
India: Measurement is an important element, and we have built upon a strong statistical system. But for SDGs, we make sure all the schemes noted have clear measurable data, and have local bodies and states reporting on outcomes in bi-annual meetings.
Conclusion
It will take a very long and comprehensive study to validate the efficacy of all the government's programmes related to the SDGs, it is still possible to note that there are still gaps in the details of how they will measure and address progress. For instance, if there was a more open engagement, they would have touched upon the importance of SDG 16 in meeting these goals through its commitments to increased transparency and government accountability. Therefore, a key point to monitor in the future is the scope of data collection being asked for by government agencies, and the engagement with local governance in meeting their statistical gathering requirements.
In addition, there should be an increased awareness of the importance of civil society. It is fundamental to the process of bridging these gaps in implementation, and in broadening the government's scope of engagement beyond economic interests and further into systemic social and cultural problems. Groups such as Wada Na Todo Abhyan (WNTA), who act as conglomerates for India-wide civil society movements, are a key point of engagement in order to attain tangible results in such areas. They, and organizations such as CHRI, can also hold the government to account on sensitive issues that would never be voluntarily reviewed at the UN, such as the state violence that keeps areas of unrest in India underdeveloped and the repression of free speech.
Mr. Panagariya mentioned that there had been state level engagement, but limited civil society and local governance input. Until these areas of cooperation are improved, government programmes and SDG progress will continue to be lacking in efficacy and popular engagement.