JAIL MAIL : Nelson Mandela Day 2021
The UN General Assembly in its resolution revising the UN Standard Minimum Rules for Treatment of Prisoners 1955, accepted 18th July as the Nelson Mandela International Day and extended its scope to promote human condition of imprisonment.
Jail Mail-Release of CHRI's Report 'Disconnected: Videoconferencing and Fair Trial'
Restricted functioning of physical courts owing to the pandemic has resulted in courts experimenting with videoconference hearings. Conducting criminal trials through videoconferencing however can result in several fair trial rights being compromised.
Jail Mail: Prisons and Parliament – Budget Session 2021
The last Parliament session- the 'Budget Session 2021' began on 29th January and concluded two weeks ahead of the schedule on 25th March 2021 after both the houses adjourned sine die. The session was held in two parts with a recess in between from 16th February till 7th March.
Jail Mail : "The bitter truth is that our prisons are overcrowded..."
The 23rd of March 2020 marks a year since the lockdown and the directions of the Supreme Court on reducing the overcrowding in prisons after taking sou motu cognizance of the risks of COVID inside prisons.
Jail Mail – International Women's Day 2021
In a year that was plagued with its own share of challenges, this Jail Mail highlights the main issues that continue to plague women prisoners in India ten years after the adoption of the Bangkok Rules on the treatment of women prisoners and non-custodial measures for women offender.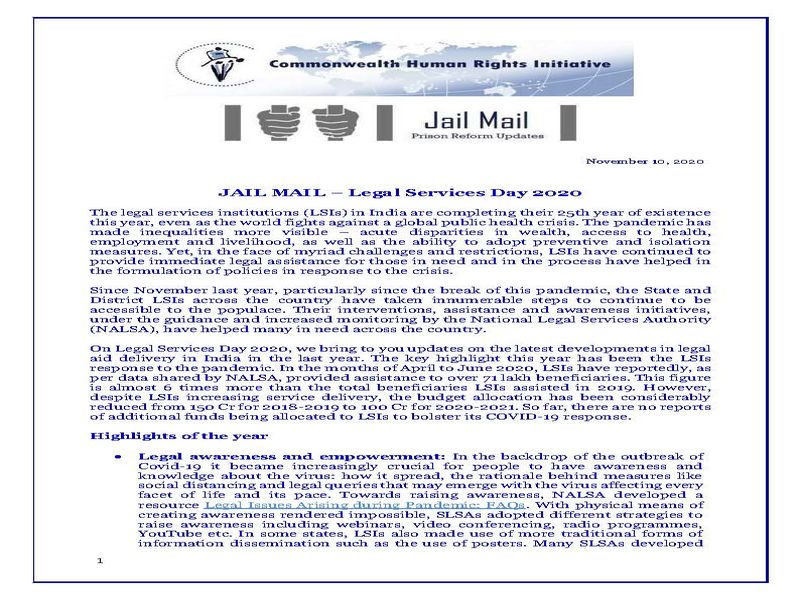 JAIL MAIL – Legal Services Day 2020
As the legal services institutions (LSIs) in India complete their 25th year of existence this year, in this jail mail, CHRI presents a snapshot into the services provided by LSIs in the face of myriad challenges and restrictions caused by the pandemic.
JAIL MAIL: WERE INDIAN PRISONS EQUIPPED TO RESPOND TO THE PANDEMIC? -CHRI's Analysis of Prison Statistics India 2019
Through this Jail Mail, CHRI shares – Ten Things You Should Know About Indian Prisons – an analysis of the latest prison statistics of India for the year 2019 released by the National Crime Records Bureau.
JAIL MAIL- NELSON MANDELA DAY 2020: THE NEED TO MONITOR PRISONS
On 102nd birth anniversary of Nelson Mandela, CHRI through this Jail Mail intends to emphasise on the need for effective monitoring of prisons.
World Refugee Day 2020 - Every Action Counts
This 20th June - on World Refugee Day - CHRI through its Jail Mail seeks to reiterate that everyone, including refugees, can contribute to the society and every action counts in the effort to create a more just, inclusive and equal world.